E-book sales at Ithaca College have remained at 5 percent since their introduction to the college campus two years ago, Rod Beers, textbook operations manager of the college's bookstore, said.
E-books, or electronic books, are online-only texts available to students for purchase. Direct Textbook, a textbook price comparison service, reported a 50 percent increase in e-book sales among U.S. undergraduate students from 2009 to 2010, but the college bookstore isn't matching up with this trend.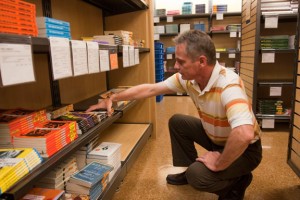 Beers said the bookstore has made efforts to integrate e-books into the campus community.
"For the last two and a half years we have been trying to sell e-books," Beers said. "We've sold them and [students] bring them right back, realizing that they don't want to be stuck to the computer to access their reading material."
Beers said part of the problem is the e-book technology itself.
"The e-book technology still hasn't progressed quite that far," he said. "There's a lot of variables there. "E-books don't necessarily contain all of the same material as the hardcover books, just because of copyright infringements. And currently, some booksellers are restricting how much you can print of an e-book and how long you have access to that e-book."
While devices that support e-books, such as the Apple iPad, Amazon Kindle, Barnes and Noble Nook and Sony Reader, have skyrocketed in popularity, they are mostly used for leisurely reading. This leaves academic content behind as print media makes its transition to the screen.
Despite this, many professors see value in using e-books for courses.
Patricia Edgecomb, a computer science instructor who encourages her student to use e-books, said one of the main factors for those who purchase them is cost.
"More than half the students in my class make the choice of e-textbook because it's cheaper," Edgecomb said. "The textbook we use is  $75. The e-textbook is $37."
But in general, students at the college seem to agree that e-book technology, while in some ways convenient, is not ready to replace traditional printed materials.
Junior Kathleen Burns said she used an e-book for her chemistry class. She said being able to look for content throughout the book with the Web browser search tool made studying simpler and more effective.
"I really liked that it was much cheaper than buying the actual book," she said. "But having to read it on a computer screen is, to me, a little more difficult. I would get e-books for certain classes like chemistry, but not for biology, where you have to read more in depth."
Though they are not widely purchased as individual units, e-books are more popular at the college's "e-brary," a collection of online texts available to students, Heidi Zuniga, electronic resources librarian at the college's library, said.
The college's library reported 233,059 pages viewed on the e-brary in the 2009-10 academic year, a 54 percent increase from 2005.
Zuniga said the library is trying to incorporate more online texts.
"I see that e-books are something that we're starting to focus a little more on," she said. "We have the e-brary, which is sort of this big database of e-books, and they kind of cover all topics, and all of those are available through the Internet."
Karin Wikoff, electronic resources librarian, said the college e-brary is a cost-effective way to supplement course work online.
"The nature of the e-brary collection is that it's an aggregated database of in the neighborhood of 47,000 titles, for which we're paying about $15,000 a year, which is a very good price," Wikoff said.
It will be a while before e-books play a more prominent role in the college's curriculum, Edgecomb said.
"E-books will become more popular over time, but they will never replace bound books," he said. "They will always be an alternative."