No one expected Odelia to see her first birthday. At 6 weeks old — when she was seized from an abusive home — Odelia weighed 3 pounds when her siblings weighed 15. A severe eye infection led to blindness in both of her eyes. But despite the odds against her, the sweet, loyal pit bull turned 1 last week, owner Tracy Barton of Varna, N.Y., said.
The Society for the Prevention of Cruelty to Animals of Tompkins County rescued Odelia in November. To help ensure that it can continue to save other animals like her, 200 people showed up to support the shelter at its March for the Animals fundraising walk Saturday at Tompkins Cortland Community College. The march was part of an effort that has raised about $50,000 for the SPCA.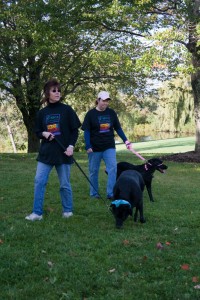 The shelter relies on fundraising to make up more than half of its annual expenses, which total $1.4 million. Especially now, in the second year of a recession, the nonprofit is struggling to maintain its no-kill policy.
Barton said she fostered and then adopted Odelia in January. She said if the SPCA was not an open admission shelter with a no-kill policy, Odelia would not have stood a chance.
March for the Animals replaced Pet Fest — a festival the SPCA has held annually since 2007 — as a way to produce revenue for the shelter and to help support it through the rest of the year, Abigail Smith, executive director for the SPCA, said.
The minimum donation to participate in the event was $100 for adults and $50 for children. A team of adults was asked to raise $500 and the minimum for a youth team was $250. Donations for teams of children and adults were considered on a case by case basis, Smith said.
The Purple Cats, a group of eight girls ages 10 to 13, made the largest donation of any group at the event. Since they started in 2008, the Purple Cats have been a top fundraising team at Pet Fest and now March for the Animals — raising $1,700 this year, mostly by knocking on neighbors' doors.
"We spent forever at this one guy's house, and he gave us 15 cents," Sylvia Frank, 12, said.
Still, that 15 cents went toward the $50,000 effort. Smith said while the march did not meet its $100,000 goal, half of that is enough to pay for one year's worth of kennel supplies.
Despite having 45,000 square feet of facilities to maintain and about 3,500 animals to care for each year, the SPCA does not receive an endowment or any government funding.
Smith said though the shelter sees  consistent donations, the SPCA is at a crossroads. Without renewed commitments, it will need to downsize.
"We are the safety net for pets in this community, and yet we have no safety net," Smith said.
Payroll is the shelter's single largest expense at $800,000 per year, with veterinary care for ill and injured animals costing $100,000 annually.
Nancy Pederson, an SPCA board member, said March for the Animals raised more money for the shelter than any single event in its history. Pederson and her husband adopted their Maltese, Bridgette, through a rescue group that pulled her from a kill shelter in Tennessee.
"It costs a lot of money to run a no-kill shelter, but I don't want to see dogs like Bridgette being put down," Pederson said. "She's way too sweet."
Though the new focus of the SPCA's fundraiser is aimed at gathering funds to increase animals' quality of life, the effect comes full circle. Many people, such as dog walker Carolyn VanLeer, seem to get as much as they give.
VanLeer has been walking dogs at the SPCA for the past six and a half years. She said after she retired and her parents died, she no longer had anyone to care for. So, volunteering at the shelter was on her agenda.
"The dogs are better than people," she said. "They don't sass you back too much — though they do beg for supper."
As for Odelia, Barton said it has been a rough road, but they have finally hit their stride.
"Every step she's taken has been one no one thought she'd see," Barton said. "We are marching to hope that other animals like her get a second chance through the SPCA for a long time to come."