Blue light telephones, easily identifiable sources of assistance located campus-wide, have fallen into disuse because of the rise in popularity of cell phones.
Blue light telephone use has decreased over the past five years on the Ithaca College campus, according to records from the Office of Public Safety.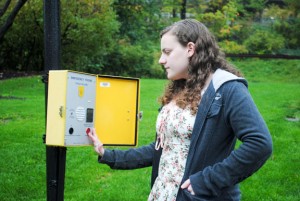 "You just don't see as many activations of the blue lights since cell phones became popular," Laura Durling, assistant director of administrative services at the Office of Public Safety, said.
The blue light telephones, named after the easily visible blue lights at the top of the poles, connect directly to the Office of Public Safety, Durling said. With the push of a button, users can instantly speak with Public Safety dispatchers for emergencies or assistance.
The blue lights were designed to provide students with a safe and secure campus, Durling said. There are more than 90 blue light telephones on campus, located near roadways, sidewalks and pathways, according to the 2010 Annual Security and Fire Safety Report. The lights have been on campus for at least 20 years, and before the popularity of the cell phone, these safety features were considered an innovative way to provide more security to students walking through isolated areas of campus, Durling said.
According to records from the Office of Public Safety, the blue lights have been activated 416 times during the past five years. Only two of the activations have been requests for assistance. Both of these activations were in 2007; one call was for medical assistance and the other was from a student who had been locked out of their dorm. The remaining 414 activations were either maintenance or prank calls, Crystal Young, coordinator of administration and operational support services at Public Safety, said.
Young said most of the emergency calls made to Public Safety are done with personal phones.
As of Oct. 15 this year, 24 calls to 911 were made, 27 in 2009, 32 in 2008 and 58 in 2007, according to Public Safety call reports.
SUNY-Geneseo, a New York state university whose student population is similar to Ithaca College's, has had only eight emergency activations since April 2008.
The light activations were primarily medical emergencies, Joseph VanRemmen, assistant to chief parking and communication services with the campus police at SUNY-Geneseo, said.
"We don't get many calls from the blue lights," VanRemmen said. "They're primarily to provide a sense of security for those on campus."
Syracuse University is also experiencing a similar trend. The university has more than 19,000 graduate and undergraduate students and more than 130 blue light telephones on campus.
The university's Office of Public Safety treats every activation as an emergency, Jennifer M. Horvath, public information officer, said. Horvath said the number of blue light activations has been on a steady decline, with a total of 1,230 activations in 2009 and 920 activations in 2010, so far.
During freshmen orientation at the college, students are taught what Public Safety has to offer them during their time on campus.
Senior Susannah Faulkner, an orientation leader this summer, said one of the first things students are told to do in orientation sessions is to program the Office of Public Safety's number into their cell phones. Leaders also instruct new students on the location, density and accessibility of the blue light telephones across campus.
Faulkner said cell phones aren't always reliable and the blue lights are dependable as a last resort in certain emergency situations.
"What if you left your cell phone in the dorm or what if your cell phone ran out of battery?" Faulkner said. "There are just certain situations where you never know."
As an orientation leader, Faulkner said making sure students feel safe coming to campus is one of the most important points emphasized during training. The orientation leaders are trained in how to talk about Public Safety and the use of the blue lights.
"I've personally never been in a situation where I've had to use one," Faulkner said. "But when those moments of fear do come up, you never know what outlet you're going to be able to reach, be it 911 or the blue lights or Public Safety."
Like Faulkner, sophomore Sarah Singer has never had to use the blue lights, but said they are a comfort when she needs to walk back to her dorm late at night.
"I really like the blue lights," Singer said. "I've never had to use them, but it's nice to know that I could just grab the phone if I needed to and didn't have to worry about fumbling with my cell phone."
Singer said though numbers show a steady decline in blue light usage across campus, she feels the college is taking the proper efforts to educate students about available resources, making the college more secure.
"The blue lights are more of a back-up plan at this point," Singer said. "But I don't really feel like I'd be as comfortable walking around campus at night alone if I didn't know that we had them there."