An upsurge of students enrolled in the Army Reserve Officers' Training Corps programs across the nation may be evidence the economic downturn is taking a toll on students and families.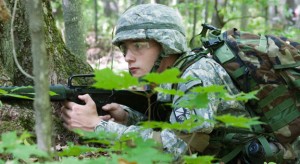 Capt. Lisa Dwyer, scholarship and enrollment officer at Cornell University's Army ROTC, said she's noticed the increase firsthand, receiving about 25 percent more applications each year. Cornell gave out 14 full-tuition ROTC scholarships this year, but next year they expect to cut five of these scholarships, Dwyer said.
"When the economy collapsed, a lot of people flooded into the military," she said. "I had significantly more applicants last year than I had the year before. We're full. We have more officers than we need right now."
Joe O'Donnell, chief of the Scholarship Management Branch at the Cadet Command Headquarters in Fort Monroe, Va., said there are 16,000 cadets enrolled in Army ROTC nationwide, making the number of cadets enrolled the highest in ten years. Army ROTC saw a 15 percent national increase in the number of people who completed the application and went to the scholarship board this year. Ten years ago overall enrollment in ROTC was more than 28,000 compared to more than 35,000 now.
Cornell University's Army ROTC is affiliated with Ithaca College, SUNY-Cortland, Binghamton University and Elmira College. The Army ROTC is associated with 273 host programs like Cornell University and 1,100 affiliate schools like the college.
Like the other 14 of the 17 Ithaca College Army ROTC students with scholarships, sophomore Hunter Tom relies on Cornell's Army ROTC aid to help attend college.
Every Monday, Wednesday and Friday Tom said he wakes up at 5 a.m. for training courses at Cornell. By the time he arrives at the college, he is hungry and sleep deprived, but must go to class, work on homework and do it all over again.
Despite these difficulties, Tom said he doesn't mind.
"I thought I would have to endure it solely for the fact of paying for school," he said. "But now I've actually come to enjoy it."
The program is designed to allow students like Tom to train to be an officer in the U.S. Army, Navy or Air Force while also earning a bachelor's degree.
Some students receive four, three or two-year merit-based full-tuition scholarships for joining, while others receive partial scholarships. Candidates for a scholarship must be U.S. citizens between the ages of 17 and 29 and have a high school diploma. They must have a 920 or higher on the SAT, have a cumulative 2.5 GPA and be able to pass the Army Physical Fitness Test.
Tom was awarded the four-year scholarship his freshman year. In addition to covering the full price of tuition, the scholarship provides $900 for books and a $300 monthly stipend that increases each academic year. When Tom graduates he will be required to serve eight years of active and inactive duty.
Tom said applying for the Army ROTC scholarship never crossed his mind until his father told him his junior year of high school that he needed to pay for college on his own.
When Tom was in the third grade, one of his younger sisters had renal kidney failure. She received expensive medical treatment for months and a kidney transplant, forcing the family to cut back on money and deplete savings for their children's college educations.
The Army ROTC scholarship was the only way he could think to cover the full cost of tuition to the college. Tom said when he was awarded the scholarship he didn't know what to expect.
"I had no idea what I was getting into," Tom said. "I was literally just taking a step off the cliff and hoping I would hit the bottom feet first."
The United States Cadet Command, which sponsors the scholarship, began to choose award winners at the national level in 2009, which affected Tom and other sophomores applying for the scholarship. O'Donnell said the change made the scholarship more competitive and has increased the quality of cadets.
"They're better multitaskers, they're self-starters [and] they're used to seeking the high end of what they do," O'Donnell said. "They'll adapt easier to the army lifestyle where you have to do complex tasks simultaneously."
Even with the increase in applicants, O'Donnell said it's undetermined whether there will be a decrease in scholarships in the coming year.
"Theoretically there could be less scholarships," O'Donnell said. "But we don't know if that's going to be true in the future because the budget for the upcoming fiscal year has not been approved yet."
Freshman Lauren Crandall, who entered college as an ROTC student but did not receive a scholarship, recently made the decision to withdraw from the program for the rest of the semester. Since she has wanted to join the army for a while now, Crandall said she is pursuing more cost-effective ways of joining.
"I can continue with the ROTC program and enlist in the National Guard, which would kind of be like [Cornell's] program without getting the scholarship," Crandall said. "I could just not do the ROTC program and enlist in the National Guard or the Reserves, or I could wait until after I graduate and then enlist, and I'll be an officer because of my college credit."
Crandall said she's tentatively planning to  apply for another scholarship next year that will help her save money on tuition by participating in ROTC. Without the financial help, she said the amount of work it takes to go to school and training sessions at the same time is too strenuous.
"It takes up a lot of time and obviously a lot of energy to be a part of the program," she said. "I can wait to do it next year and get the scholarship money for being a part of it."
Capt. Richard Gomez, battalion recruiting and enrollment officer at Fordham University, said it's hard for students to be in the ROTC just for the money.
"Based my experience, anybody who is doing it just for the money will quit, period," he said. "Last year, we had seven students give up their full four-year tuition scholarships. Full rides to Columbia [University], Fordham and NYU. They just didn't want to do it."
Not everyone in the ROTC applies for the money. O'Donnell said he finds students come for a lot of different reasons.
"There's a resurgence in the students themselves and their desire to serve," he said. "Not just in the military, … but ROTC is reaping the benefits of that."
Senior Travis Cudlin said the decision to join Cornell's Army ROTC program came first. The scholarship was an added benefit.
"I was in the last stages of joining the Army National Guard as a combat medic when my parents convinced me that it was more important to get my college degree first," he said. "I met an ROTC recruiter at a college fair a few weeks after and realized that I could do both at the same time."
Crandall said she understands the benefits of the ROTC program but wishes it had the funds to recognize the time and effort students set aside to get involved. She said she equates the program to a part-time job.
"If you're enlisting in the armed forces, the government should help to pay for your school," she said. "In a sense it's just a paycheck for you working for the government."