Restaurant owner and South Africa native Samantha Izzo first prepared pigs in a blanket from her Winnie the Pooh cookbook. Two things always came naturally to her — cooking and being in the spotlight.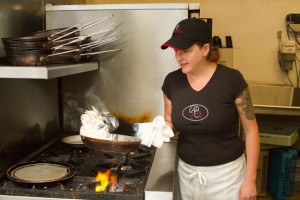 As the chef and owner of Simply Red Bistro at La Tourelle Resort in Ithaca and Sheldrake Point Vineyards in Ovid, N.Y., Izzo is working to combine both of those talents and share her culinary perspective on her own cooking show.
Izzo submitted an audition tape to "The Next Food Network Star" in New York City a month ago. As she waits for a response, Izzo already has a clear vision for her own show. She plans to name it "The Spice Root" after her maiden name, Buyskes, which means "to go by or travel by ship." Izzo said her show would explore the world's exotic spices and herbs and teach viewers to integrate them into everyday meals with fresh, locally grown food, a concept she believes would be distinctive at The Food Network.
"It's about putting my heart into the dishes I prepare and creating something that when somebody sits down and eats it, I'm producing something they really enjoy," Izzo said. "It may be different than anything else."
Izzo's philosophy for food is already well known in Ithaca. She creates the menu for Simply Red Bistro by selecting one exotic spice per month — what she calls the "Spice Focus" for each dish. She combines the spices of the world with fresh, locally grown food from a network of Finger Lakes farmers, meat producers and winemakers. October's spice is garam masala, and she uses it to prepare Indian cous cous salad, curried pork stew and orange crème brûlée.
Rose Hilbert, a close friend and innkeeper at The Inn at Gothic Eves in Trumansburg, who uses Izzo's catering for events at her bed and breakfast, said Izzo is someone who likes to color outside the lines.
"It's not just mac and cheese," Hilbert said. "It's gourmet mac and cheese with all of these awesome herbs and spices in it that really accent the true flavors that cheese and noodles should go with, and she does this from her South African roots."
Izzo said she believes her vision and culinary point of view have something special to offer to The Food Network.
"I feel like I have something to share," Izzo said. "I feel like I have something to teach. I'm not just a chef who's focusing on the local-seasonal-regional, which a fair amount of people in the region are doing. I've taken that in a direction that's a little bit different than everyone else."
Izzo conducted an interview for The Food Network's show "Chopped" last spring in hopes of getting her name out in the culinary television world. While she cannot speak of current status with the show, Izzo said she is optimistic about her chances of getting on "Chopped."
Bob Madill, co-owner of Sheldrake Point, said Izzo's outgoing and warm personality make it easy for her to communicate.
"Her basic orientation towards wine and food — [and] her personality — lends itself to helping people enjoy, explore and try to be a bit adventurous," Madill said. "That works well with all sorts of media."
Hilbert said while Izzo enjoys the spotlight, she shares her opportunities with others. When executives from The Food Network came to meet her, Izzo threw a party to showcase local farmers and winemakers in the area.
Born and raised in South Africa, Izzo developed an interest in cooking from an early age. She moved to the suburbs of Buffalo, N.Y., at age 15 when her mother remarried a geologist from the area. She dropped out of college and moved to Atlanta to work as a floor manager for the Cheesecake Factory Corporation, where she had the opportunity to learn the ins and outs of house operations, food preparation and management practices for five years.
After quitting the Cheesecake Factory and taking several odd jobs, Izzo moved to Trumansburg and found a run-down diner with her then-husband. The couple renovated the space and opened Simply Red Village Bistro. After closing the Village Bistro, Izzo revamped existing restaurants at Sheldrake Point in 2007 and La Tourelle in Ithaca in 2009 by bringing her "Simply Red" concept and menu to both locations. Now, Izzo heads both restaurants.
Hilbert said Izzo has the drive, showmanship and culinary talents to have her own show.
"She just sticks it out there," Hilbert said. "Some people just don't have that courage or belief in themselves, and she just seems to walk around with a lot of it — persistence and initiative on her own part."
While Izzo said her future is uncertain, the chef loves talking about food.
"I grew up in a very artistic family in a lot of different ways, so I find food is my art," Izzo said. "That's the place I'm the happiest. I love to create."