Betsy Gilligan '10 died last Thursday after she was hit by two vehicles while crossing Route 9 in Saratoga, N.Y.
Shortly before, at 9:15 p.m., Gilligan was involved in a car accident when her vehicle rear-ended another near Kaydeross Park Road on Route 9, Sgt. John Catone of the Saratoga Springs police department said.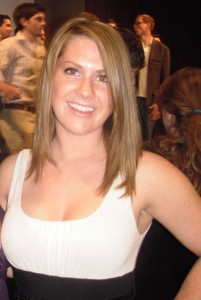 Catone said Gilligan spoke with the other driver, William Exner of Schenectady, N.Y., then began walking south on Route 9 while Exner drove to a nearby Mobil station to call police, since neither driver had a working cell phone.
Two women pulled over to help when they noticed Gilligan and spoke with her briefly before she inexplicably ran across the four-lane highway. The women told police Gilligan seemed disoriented, Catone said.
Robert Baran, 64, of Amsterdam, N.Y., was driving a Ford
Explorer when he hit Gilligan and lost control of the vehicle, which rolled several times. A second vehicle traveling behind Baran also hit Gilligan. Baran sustained serious injuries but is now in fair condition at Albany Medical Center. The driver of the second car was not hurt.
Police arrived to find a passerby giving Gilligan CPR. Gilligan was treated at the scene and taken to Saratoga Hospital, where she was pronounced dead at 10:07 p.m.
Details of the accident, including why Gilligan may have ran across the road, remain under investigation. Catone said he does not expect any charges to be filed.
Gilligan was the third pedestrian killed in the past 14 months while trying to cross that stretch of Route 9.
"It is a very busy state four-lane highway, and it is not very well-lit at all," Catone said.
Gilligan, 22, graduated with honors from the college in May. The television-radio major worked on ICTV as a host of Entertainment 16. She interned with MTV in series development during fall 2009 while studying through the Roy H. Park School of Communications' Los Angeles program.
Andrea Teplitsky '10, Gilligan's close friend, said her friend's laugh is what she will remember most.
"She just made everybody around her happy," she said.
Park School Dean Diane Gayeski said Gilligan's family is establishing a memorial fund in Gilligan's name. Gifts will go toward a general fund to be used within the school.
Teplitsky said there was standing room only at Gilligan's funeral Monday, and 500 people attended the wake Sunday.
"The funeral director told us it was like a celebrity had died," she said. "Betsy would have loved that."
Memorial gifts in Gilligan's name can be directed to Elayne Nicholas in Alumni Hall.