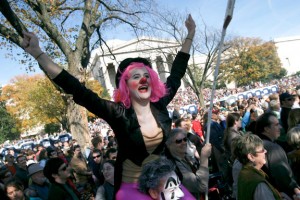 Ithaca College students were among more than 200,000 who crowded onto the National Mall on Saturday to hear Jon Stewart and Stephen Colbert speak about the negative effects of fear tactics in the media.
Stewart said he organized the "Rally to Restore Sanity" during a time of social and economic turmoil.  Colbert countered the rally with his own — the "Rally to Keep Fear Alive."
The rallies included musical performances by The Roots, Ozzy Osbourne, Kid Rock and others and also featured many speakers.
Sophomore Alec Mitchell was one of many students who drove six hours to attend the rally. Mitchell said the rally was entertaining but had serious undertones.
"[Colbert and Stewart], despite the ridiculous acting, played off each other brilliantly," he said. "They were able to integrate their comical nature into the performance, while showing the absurd reality that is our fear-filled media."
Junior Sierra Shorey said she wished the rally had been less of a comedic performance.
"It started to grate on me after a while because I didn't go all the way down to D.C. just to be entertained by crazy antics," Shorey said. "I wanted to hear a real message, and at times Colbert wasn't just playing devil's advocate — it seemed as though he was really hampering the rally's purpose."
Colbert, who mocks the views of conservatives on his television show "The Colbert Report," did not stray from character throughout the rally. Stewart, who represents a liberal point of view, said reason should be used to address social problems.
Stewart introduced guest speaker and National Basketball Association hall-of-famer Kareem Abdul-Jabar, who said fear-induced bigotry impedes the cooperation of the American people.
"No matter what religions are in play, we are all on the same team," Jabar said.
In a speech at the beginning of the rally, Father Guido Sarducci, a fictional character played by comedian Don Novello, said we should focus similarities between Muslims and Jews in the Middle East.
"They don't eat pork; we don't eat pork," Sarducci said. "Let's build on that."
Stewart said Americans with different views must also find what they have in common in order to work together to solve problems instead of working against each other and using fear to fuel their differences.
"Reason is how mankind advances," he said. "If we were afraid of everything, we would have never harnessed the power of fire."
Stewart addressed the role of the media today and accused the mainstream media of blowing many issues out of proportion.
"If we amplify everything, we hear nothing," Stewart said.
Stewart said he believes people work together every day to fix the issues blown out of proportion by the mainstream media.
"This was not a rally to … suggest that times are not difficult and that we have nothing to fear," Stewart said. "We live in hard times, not end times."
Mitchell said he would call more than 20 hostels and drive six hours all over again given the chance.
"Our politicians and our country need to be reminded of what news is supposed to be and how Congress is supposed to work out issues," he said.
He said he believes in the ideals behind the rally and would like to see Congress and the American People work together.
"Our democracy was not built upon name-calling, backstabbing and outright lies," Mitchell said. "It has been built upon respectful disagreement between different ideals, and it took a late-night comedian to remind us."