Marisa Kelly, dean of the College of Arts and Sciences at the University of St. Thomas in St. Paul, Minn., and one of the finalists for the position of provost and vice president for academic affairs at Ithaca College, interviewed  on campus last Thursday and Friday.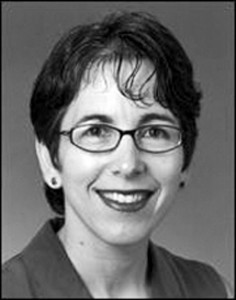 Candidates are in the process of visiting campus to hold open sessions and interview for the position.  A search committee narrowed the candidates down to three finalists since it began its search for a provost after former provost Kathleen Rountree resigned last spring.
Kelly began her Thursday session with faculty, staff and students by speaking on the topic of developing distinctive excellence at a residential comprehensive college, the same topic Mary Strey, former provost and vice president for academic affairs at Gustavus Adolphus College in St. Peter, Minn., and the first candidate to present, spoke on during her sessions last week.
Kelly said the college needs to keep up with online education and new learning styles.
"Ithaca College must build on its foundation of strong schools and its residential comprehensive profile … in order to provide a distinctive learning environment," she said.
Kelly outlined key elements she deemed necessary to achieve that goal: learning pedagogies, interdisciplinary programs, integration of liberal arts and professional education, and co-curricular education.
Martha Gray, director of Institutional Research, asked how Kelly has seen assessment software implemented at colleges.
"I haven't seen institutions do it really effectively yet," Kelly said. "It needs to sit in the provost's office with strong collaboration from student affairs to really do it correctly."
An attendee asked Kelly how she thought the standard of excellence at the college could stand out against other schools.
"They're probably doing some interdisciplinary work, but very few institutions are doing a good job of all of that," Kelly said.
John Rosenthal, professor of mathematics, asked for Kelly's opinion on shared governance, or the way in which responsibilities are shared by administrators, faculty and staff, and the level of faculty involvement in the college's decision-making.
"The worst thing is to have shared governance that's not effective," she said.
Kelly closed her session by addressing why she thought she would be a good fit as provost.
"I am both a collaborative leader, in the sense that I want to hear everybody's thoughts and I want to make sure that we are moving together when it is appropriate and to hear all sides of an issue, but at the same time I'm decisive," she said.