Political consultant, best-selling author and CNN contributor James Carville fused optimism and humor in his speech Monday as part of the Roy H. Park School of Communications Distinguished Visitor Series.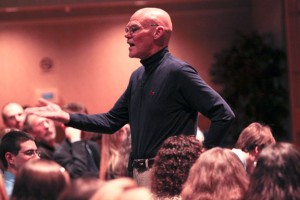 In his Election Eve speech, "The Ragin' Cajun" encouraged audience members to vote in the primary election.
"There are two ways you can go through life," Carville said. "You can make rain or you can get rained on. And I think it is an unthrilling way to go through life with an umbrella and a raincoat."
Dean Diane Gayeski introduced Carville with a welcoming message and showed a video of celebrities imitating him, including recent Saturday Night Live skits.
"When we select speakers like this, we always try to select someone who we feel represents a number of things," she said. "[We look for] innovators and people who have shown effectiveness in their use of media, people who have a message of social conscious and also someone who can speak to a wide variety of audiences."
Carville pumped up his audience to get out in the world and be more involved in politics.
"You can say what you want about politics, and it may be true," he said. "But the one thing that you can't say is that what they do is unimportant."
Carville said that out of everything he has done in his life, he is proud to have worked in politics.
"In fact, I love it," he said. "In fact, I even like politicians."
Carville said he recommends everyone to get more engaged in their government, in spite of its problems.
"If you get involved in public service, … it's fun," he said. "You're really having an impact on things. You want to be involved in every step of the way — it is your future."
Freshman Bijan Welch said she enjoyed Carville's motivational words.
"I like the fact that Carville was really blunt and straight to the point," she said. "I thought that politicians were just about their own personal gains, but he was more about us being informed, getting educated, and contributing to how the government enforces laws, which I really liked.
Junior Brianne Cordima said she thought Carville's speech was not only inspirational, but also entertaining.
"I think he really inspired students to continue trying to invoke change," she said. "His speech was so compelling, and I loved how he used humor to get his message across."
Cordima, as well as dozens of other audience members, participated in the live tweet that went on that night, in which audience members tweeted about the event on Twitter, using the hashtag #raginic.
Carville closed his speech, encouraging his audience to take control of their lives and be a part of something larger than themselves.
"This doesn't have to be your moment of despair. This is your moment of opportunity, this is your moment of challenge, this is your time to step forward," Carville said. "The ability to communicate is the ability to influence. The ability to influence is the ability to have impact on the direction of the country. Don't get rained on, make your rain."