Josh Fox gave the fracking movement a face when he wrote and directed "Gasland," a documentary that features communities who have been affected by natural gas drilling, or hydraulic fracturing.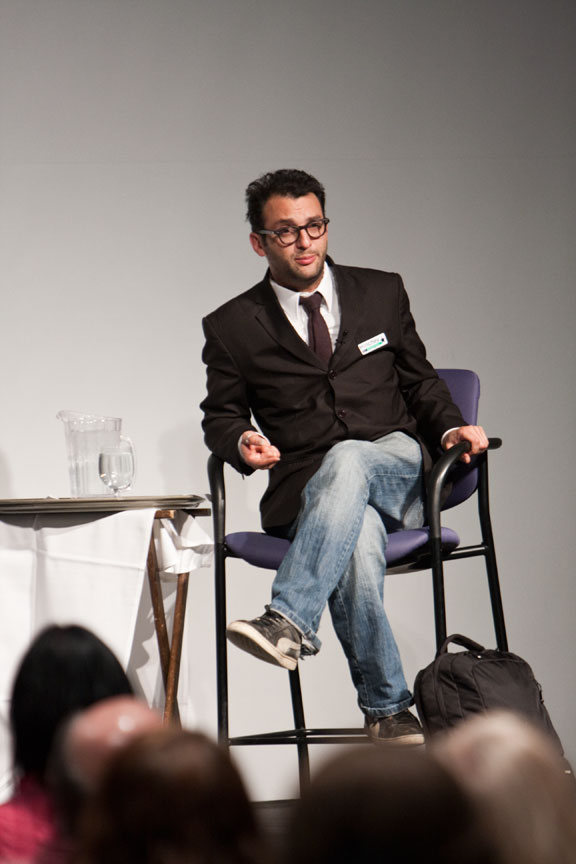 The documentary won a Special Jury Prize at the Sundance Film Festival this year. A theater director by trade, Fox's has changed many people's idea of natural gas drilling with this film.
Tuesday night, after a screening of "Gasland" in Emerson Suites, Fox and two guests — Craig and Julie Sautner, residents of a Pennsylvania town featured in the documentary — answered questions from those in attendance.
Fox spoke with contributing writer Kacey Deamer about his fight to stop fracking.
Kacey Deamer: Your first film, "Memorial Day," was a narrative, and it focused on culture, torture and politics in America. What inspired you to investigate hydro-fracking?
Josh Fox: Basically I was asked to lease [the rights of his land for natural gas], and I had heard different stories from the natural gas industry and people who were concerned in my area, and I just started to investigate it.
KD: When you began investigating, did you decide that you wanted everything on film?
JF: I had an inkling that I was going to make something — I didn't know what so I figured I might as well start it with images of people. So initially I thought I might make a five-minute report or something that goes on YouTube. Then it was clear that I couldn't tell the story in five minutes.
KD: What did you hope to accomplish with "Gasland?" Did you have a goal when you first started?
JF: Stop the drilling. And where it is already, fix the problems that exist there so that the people who are living near them are not harmed. And in the areas where the harm to the water is irreparable that those people will have a permanent solution provided.
I think it's a historical document. I think it's to encapsulate a moment in time, educate people. But it's also a detective story. It's there to entertain people. I mean I know that it would never do anything if it wasn't in some way entertaining and exciting to watch. It's a detective story, it's also got a lot of humor, it's got explosions, car chases, exciting animas, strange phenomenon.
There's no love story in it though.
KD: Maybe for your next film, which you mentioned — "Gasland 2."
JF: "Gasland 2" is really because the story's not finished yet, there's much more to say on this topic.
KD: So is it a continuation of the areas that were covered in "Gasland," or are you broadening the spectrum?
JF: Broadening. We're going to Australia. Filming in Australia is starting next week.
We'll probably end up at some point in Germany. We've definitely gone to more areas in the United States than were in "Gasland." There is a depth of field that I think broadening will lead to.
KD: Well it's obvious that you've become very much invested in the anti-fracking movement. Beyond filmmaking, have you become involved in policy or lobbying and to what extent?
JF: I've lobbied Washington two or three times. I've been consulting with the EPA in a number of ways. We screened the film at the Department of Justice and gave a presentation there. I've talked with state reps, Congressman, Senators, Department of [the] Interior, basically as much as I can possibly do. And I've become kind of a spokesman for this, I think, nationwide.
KD: What is the value of documentaries and theater today that focus on these social, political, justice issues?
JF: I have to say this as an outsider to the documentary world, because I seriously am, I have been embraced by that world and I'm so happy because they're amazing. Documentarians are people, and I'm not talking about myself here, but they have their shit together, they know how to tell a story, they care about the world, they don't care about money or ego. They're simply a class of people with an enormous amount of integrity.
So that's real, long-form reporting. It's an endangered species in the news media today, but not in documentaries. You see, HBO just got an award from somebody, because … they are inspiring a level of journalism that's more intense and more deep and more exciting than the news media which is getting smaller and smaller in their reports.
So I think documentaries is one place that people go right now to get their news, and that's a really important function in today's society, which has shorter and shorter news and more and more commentators.