When the football team suits up Saturday to play SUNY-Cortland in the 52nd annual Cortaca Jug, more than Route 13 bragging rights will be at stake.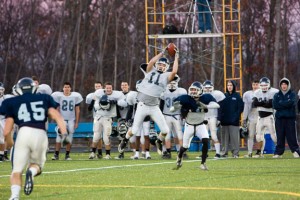 A Bombers' victory would give the 2011 senior class a perfect 4–0 record against the Red Dragons in what Sports Illustrated once dubbed the "biggest little game in the nation." No senior class has gone undefeated against Cortland since the class of '87.
Senior quarterback Rob Zappia has been a part of the rivalry the past three years as a backup, but will make his first start in the historic game this year.
"You try to prepare the same for every game, but we know how big this rivalry is," Zappia said. "The intensity and atmosphere when you walk into that stadium is electric. Pride is on the line."
Not having qualified for the playoffs, for the team, and more importantly the seniors, this will also be the last football game of the year, Zappia said.
"Unfortunately we weren't able to pull out a win against Alfred and get into the playoffs," Zappia said. "All of us want to finish our careers on a positive note, and the added bonus of playing Cortland only increases that desire."
For senior wide receiver Tom Vossler, who in Saturday's loss at Alfred University became the all-time receptions leader in school history, a final Cortaca Jug victory would cap an already historic career, he said.
"There's a lot of motivation going into this game just knowing the history of it," Vossler said. "It's special to be able to finish my career in a game that means so much to so many people."
Vossler, who recorded seven receptions in Saturday's loss to move his career total to 136, passed Abe Ceesay '00 who recorded 131 receptions for the South Hill squad from 1996-99.
"To be a part of the tradition here and have my name in the record books means a lot," Vossler said.
Head Coach Mike Welch said the unselfish attitude of this year's senior class, particularly the senior leaders on offense, has driven the team forward this season.
"They've dedicated themselves to the team concept and have tried to instill that attitude in their teammates," Welch said. "Whether Vossler has 10 catches in a game or one, he's solely focused on what he can do to help the team win."
Welch, who has been part of the Cortaca Jug rivalry as both a player from 1970-73 and as coach from 1984-present, said he knows what it means for a football player to win his final game and acknowledged the added intensity the rivalry creates.
"Cortaca is a special game that's mentioned right up there with some of the biggest rivalries in college football," Welch said. "Not very many players have a chance to finish their careers in a game like that."
Zappia said for him and senior tight end Dan Higgins, this game will mark the end of an eight-year connection that began in 2004 at Greece Athena High School in Rochester, N.Y.
"Me and Higgins have known each other for a long time," Zappia said. "We're going to cherish this game a little bit more on a personal level because it will be our last game as teammates."
A win Saturday would make this year's senior class the eighth to finish their careers undefeated in the Cortaca Jug game, and Welch said they're aware of the history.
"They know what this game means to the two schools," Welch said. "They know what it will mean to cap their careers with a win."