Going into college, Meghan Musnicki '05 had aspirations to play basketball, but while going to talk to the basketball coach at St. Lawrence University, where she started her collegiate career, she stumbled into another opportunity.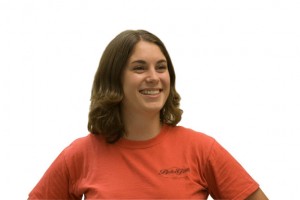 "The rowing coach saw me and asked if I'd be interested in rowing, and I didn't know what that was, but he said I looked like I could be a good rower because I'm a tall person," Musnicki said. "I was like, 'Sure, I'll try it, but I want to play basketball.' And he was like, 'OK.' I ended up liking rowing, so I stuck with it."
Musnicki enjoyed rowing so much she didn't end up playing a day of basketball. She then transferred to Ithaca College the second semester of her sophomore year. At the college, she still had no idea that she would become a member of the U.S. National Women's Rowing Team and compete in the World Championships this year.
Musnicki has had to overcome adversity to get to where she is now, though. She took about a year and a half off from rowing after college, but stayed in good shape. Musnicki then moved to Boston where she joined a boat club and trained to get invited to Princeton, N.J., where the national team trains.
In the summer of 2008, Musnicki was invited to a 4s camp, where rowers compete in boats of four, in Virginia where she made the 4 that was lined up to make it to the World Championships, but they lost by .01 second in a selection regatta and didn't advance. Though Musnicki didn't get to move on to Worlds, her efforts got her invited down to Princeton.
In her first year of competition with the national team, Musnicki rowed as part of the women's 8 that finished first with a time of 6:12.42 at the World Championships on Nov. 7 in Karapiro, New Zealand. She said it was particularly special after not making the team last year despite training with it.
"It took a while for it to sink in, I guess," Musnicki said. "It was really exciting for me."
While Musnicki went into college with no rowing experience, she wasn't too far behind the rest of her current teammates, as many of the rowers don't start until college. She said the one difference is they all came from Division I rowing programs.
Compared to the collegiate level of rowing, Musnicki said the international competition is much higher.
"You're just at a whole different level because athletes are the best in their country," she said. "It's just a whole different level of speed and commitment and dedication to what you're doing because it is pretty much our job."