After interning with Maneater Productions and FunnyOrDie.com during his eight months studying in Los Angeles, senior Josh George returned to Ithaca College this fall with a new goal: starting his own production company, Comedy Sauce.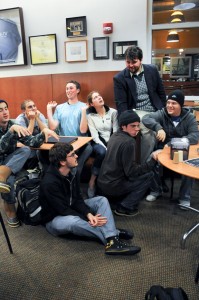 Comedy Sauce began last summer when George, the executive producer, came up with the idea and recruited 13 people from across different majors who he thought would work well together to collaborate on funny digital shorts. Members contribute to all aspects of the filming process.
As an Ithaca College Television veteran and a former producer of the ICTV show "Suiteness," George said he wanted to be able to create shorts without compromising the integrity of the finished product. Comedy Sauce is a non-affiliated group at the college.
"I felt like there wasn't enough time to put out a good product, especially three episodes on a TV station," he said. "You're always rushing."
Senior Eric Peterson said the group bonded over their weekly brainstorm meetings every Wednesday.
"I didn't know a lot of the people before we got started, but we quickly became friends after shouting out ideas every week for stories," he said.
Senior Lauren Hesse said she never had the opportunity to write comedy before, so she is glad George created a group with many people working together.
"It's been great for the editing process," she said. "But also to see how students take on and become producers and directors and production assistants for these videos. There's a lot that goes into it, even if it's just for fun."
Finished products are uploaded on the group's website. George said having the website helps the skits reach a larger audience.
George said he wanted to run the company like an actual production company in L.A., so initially, people had trouble adjusting to a style different from what they were used to while working with ICTV. However, things picked up with the success of their first video, which was uploaded in mid-October.
"As the first video came out and we got, within the first two days, about 500 hits on the website, things just started to click together and people started getting really into it," George said.
If George had a choice, he said he would upload a video every week, but it is hard when everyone has classes and different schedules. The group has already uploaded two shorts on its website, one about a party in which everyone shares stories about a person but they don't know the person's name, and one about a basketball coach who makes sexually inappropriate, suggestive comments during halftime.
To develop the coach video, George split Comedy Sauce into two groups and made it a competition, giving them two-weeks to create a funny video. The winning skit was uploaded on the website.
"I literally didn't talk to anyone from the other group for two weeks," George said.
The group is in the process of editing a third video, which is about a nervous girl doing man-on-the-street interviews, and will be shooting a fourth video this weekend. They aim to have the two new videos online by the end of finals week.
Matthew Hazenbush, a senior at Boston College, a fan on the Comedy Sauce Facebook page and George's friend. He described the shorts as hilarious and said he was really impressed by the high production value of the videos.
"It's definitely like CollegeHumor — geared towards the college audience," he said. "That's what the creators are going for, they themselves being college students. For example, in the coach video, there's a lot of toilet humor that just comes off as really funny."
Anyone is allowed to propose scripts or story ideas through the team's Facebook group and become a collaborative part of the process.
With a team made up of mostly seniors, members do not have much time left together at the college. However, if a good number of the group moves to LA, there is a chance they can continue making shorts together.
Freshman Alex Cartini, who is the only underclassman of the group, said the seniors have been a defining part of his college career so far because they have taught him about everything from camera work to audio editing.
"I definitely think my learning curve has been much higher than other freshmen just because we're doing stuff they've been doing for four years now," he said. "I like what we started, and it would be nice to continue producing work for Comedy Sauce."
George said he wants to have seven or eight shorts online before graduation, but ultimately he hopes everyone has fun in the process.
"The purpose for it was just to have fun for it, to not be totally stressed out and to just enjoy making videos in a professional, yet fun way," he said.