The women's basketball team has been spreading the scoring around more than usual this season.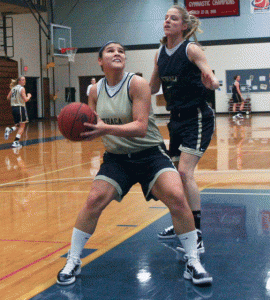 After having five different individual game-leading scorers last season, the Blue and Gold have seen seven different faces lead the way in the scoring column for a single game this season.
Senior guard Jane DeBiasse, who led the Blue and Gold in scoring with 12 points in a 79–53 loss to Mount St. Mary's College on Nov. 20, said the different options on offense have been beneficial to the team.
"We're really hard to shut down," DeBiasse said. "When we scout other team's it's always like, 'Watch out for number so and so,' and that's how you stop their team, but for us if you stop one person, there's still so many other people who can step up and come in, and that's a huge advantage for us."
The Blue and Gold had only four players averaging more than seven points per game this past year. This season that number has increased as six players are averaging more than seven points per game for the South Hill squad.
Head Coach Dan Raymond said having so many different players who can contribute on offense doesn't really change the team's game plan, but it's very comforting to have as a coach.
"In years past when we've had a definite leading scorer we knew we could count on X number of points a game," he said. "This year we really don't have that but because we have so many other options."
One of those players is freshman guard Jennifer Escobido, who is second on the team in scoring this season, averaging 8.8 points per game off the bench for the team. Escobido led the Blue and Gold in scoring with 13 points in a 67–55 loss to SUNY-Cortland on Nov. 30.
She said the team members believe in each other's ability to score.
"The depth allows us to score from different options and be a threat because we have so many options," she said. "It makes it hard for other teams to come in and scout and be like, 'Who are we going to guard this game,' because other players will step up."
Shea said the Bombers' output on offense is working so efficiently this season because of the team's defense.
"We just try to let our offense go through our defense," Shea said. "We're going to get excited if we're playing good defense, and it gets our offense to open up and keep scoring."
The Bombers as a whole have also increased their scoring output from last season. The 68.8 points per game the South Hill squad is averaging this season is the highest team average since 2006–07, when the team put up 69.3 points per game.
Raymond said every play the team executes has multiple options.
"The kids do a really good job of recognizing who should get the ball where and when," he said. "It's not something that I have to do; they understand if somebody's doing really well they find a way to get them the ball within the offense."