In the James J. Whalen Center for Music, a father and son stand opposite each other — one strumming a banjo, the other striking a hammered dulcimer. With the count of "one, two, three," the pair exchanges a glance and dives into a graceful mix of warm rhythms and melodic crescendos. Feet tapping to a steady beat, the two settle into a groove, playing the opening notes of their first song.
Listen to Otter Creek on Kolodner's MySpace page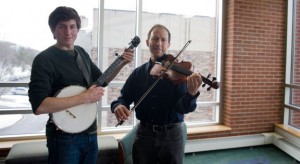 For Bradley Kolodner, a junior television-radio major, playing music with his dad wasn't a common routine until just three years ago, when he first took a beginning clawhammer banjo class at a summer music camp in Maine.
After a week of lessons at Meadowlark Music Camp from Richie Stearns, an Ithaca-based clawhammer banjo player, Kolodner was hooked. He asked his father, Ken Kolodner, a professional fiddle and hammered dulcimer musician, to find him a banjo, and he began to teach himself how to play. Since then, Kolodner and his father released their first album, titled "Otter Creek," in December.
Kolodner grew up surrounded by music. His father, who still gives music lessons in a studio from their home in Baltimore, toured in a band for several years and plays a smattering of World, Celtic and Appalachian fiddle music. Though Kolodner played the cello in middle and high school, he said he wasn't interested in old-time music until he discovered the banjo.
"It's pretty amazing that just in a few years I've become so attracted to all these different instruments that for my whole life were always available to me, but for some reason this banjo class at Meadowlark was the catalyst for everything that has followed," Kolodner said.
Ken Kolodner said he was pleasantly surprised his son picked up the instrument.
"I couldn't believe how quickly he came to it," he said. "He's a really solid player. It's been really rewarding and just very fun to watch him develop as a musician."
Clawhammer is a style of banjo playing distinctive to old-time music, which involves strumming downward on four strings and using the thumb to strike the fifth string. The hammered dulcimer is a stringed instrument played on a wooden stand, and the musician uses mallets to strike the strings. Though commonly confused with bluegrass or folk music, Kolodner said Appalachian music, which originated in the mountains of Virginia and North Carolina, is less performance-based.
"Old-time is more jamming based," he said. "You kind of sit around, and you all play the melody. No one takes an improvisational break; you really groove around the tune rather than trying to show off [like] in bluegrass."
Kolodner plans to share his passion for old-time music in the Traditional Music Club he formed at Ithaca College this semester. He said he loves the sense of community in music and wants to build a similar experience on campus.
When Kolodner began writing his own music, his father suggested the two record their own album. They spent last summer in the recording studio, arranging 16 tracks of original and traditional Appalachian songs on "Otter Creek," which was named after their vacation spot in Vermont. Kolodner, always mindful of the tune, said the two focused on dynamics, tone and rhythm when recording.
After releasing the album, Kolodner and his father sent it out to about 50 radio stations across the country, and Kolodner was interviewed for WICB. He said the feedback on the album from fellow musicians has been positive.
Curt Stager, music director at Meadowlark Music Camp, said he first interacted with Kolodner when he joined him for a spoof of Johnny Cash's "I've Been Everywhere" at one of the concert nights at the camp. When listening to "Otter Creek," Stager said he was blown away, especially since Kolodner writes most of his own music. The album contains nine original tracks.
"It was unbelievable; I was so impressed," he said. "I can hear some of Richie Stearns' influence in there, but it's also his own style. I always admired people who are good composers, and he certainly is."
Ken Kolodner said his son has an unusual "flowing" style for banjo players, an approach he believes was influenced by living with old-time Appalachian music his entire life.
"He has a very melodic style," he said. "You really can hear the tunes when he plays, and that is not always true with clawhammer banjo players. … While he has a solid rhythm, he looks for hearing and phrasing the tune so it's really well articulated. He's dynamic."
As Kolodner played with his father in Whalen, he settled into a naturally steady pulse with the banjo. Mid song, he nodded along to the clean, crisp notes, looking down at his fingers to intently concentrate on their placement. In one fluid motion, Kolodner shot a quick glance at his father and played on, the  rise and fall of his notes ringing in unison with the hammered dulcimer.
Kolodner described the old-time scene as "graying" because there are not too many young people keeping the tradition alive anymore. Stager said Kolodner is an up-and-coming force on the banjo scene.
"He's energetic, he's creative and he's talented," he said. "He's playing the old-time style but in a really unusual way and coming up with really interesting compositions."
Kolodner has had the opportunity to play in several concerts with his father, including one at the Kennedy Center in Washington, D.C. Last summer, he won the Old-Time Banjo Festival Contest in Maryland and played with big-name banjo players like Adam Hurt. Kolodner said winning the contest was a big moment for him in his early banjo career.
"It was a big step in terms of getting my name out there," he said. "We played 'Otter Creek.' We had one tune, so we played the title track of our recording. We got a great response. That was a very satisfying, fulfilling moment to be up there on the stage with my dad."
Kolodner said Appalachian music brings people together, and he has developed a groove and a rhythm with the old-time community, his father and the music.
"At its deepest level, the feeling that you get when you're grooving and jamming along to a tune, it's just an experience that's hard to feel just listening to music," Kolodner said. "When you're actually contributing to the sound, it's a pretty amazing experience."
Kolodner said he hopes to continue playing  in concerts and jam sessions with his father.
"I bring my banjo with me everywhere I go," he said. "I'll never leave home without it. If I move, in the future, I'll always have music with me; it will always be a part of my life."
Back in Whalen, the tune swells then comes to a sudden close. Kolodner hovers over the final note, looks up and grins.
Bradley and Ken Kolodner will perform together at 8 p.m. March 12 in McGraw Hall at Cornell University as part of the Cornell Folk Song Society spring concert series.