Ithaca College students and faculty were awed and inspired as events conspired to force Hosni Mubarak to step down from his position as president of Egypt this morning.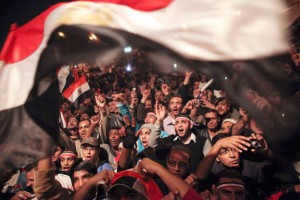 The news comes after 18 days of around the clock protests by democratic advocates in the Middle Eastern nation, which begged the military to come to their aid and force Mubarak from office. The marches and other events sparked riots and violence as civilians were attacked and beaten by pro-government gangs.
Professor Asma Barlas, director of the Center for the Study of Culture, Race, and Ethnicity, said she was very excited about the implications of the revolution.
"This is a momentous occasion in the history of Egypt, in the history of the Middle East, and even in the lives of people like me who live so far away and who aren't Egyptians," she said. "It is historic because a peaceful popular movement has brought down one of the most infamous dictators in the world. I am ecstatic, overwhelmed, and inspired."
Freshman Joanna Miller said she was quite pleased that popular protest had finally triumphed over Mubarak's autocratic rule.
"I think it's a very good thing," she said. "The people clearly do not want him as leader, and it took him long enough to finally give it up."
Fellow freshman Tanuj Patel agreed that change in the tumultuous country is welcome and greatly needed.
"The guy's been in charge for 30 years, he's like 80 years old, and he's losing it mentally," he said. "I've heard all kinds of stories about the dictatorship and the illegal things going on in Egypt. Mubarak's been making promises to them for years and none of it has happened. I think it's great, and really I think it's going to start a domino effect with other regimes."
Patricia Rodriguez, assistant professor of politics, also commended the peaceful efforts of the protestors.
"I think the significance of Hosni Mubarak's resignation is tremendous," she said. "It is the culmination not just of protest by citizens and by social movements in Egypt, but of a tremendous amount of work, resilience, and frustrations endured by the Egyptian people for a much longer time."
Mubarak attempted to placate protesters on multiple occasions — first, by dismissing his cabinet, and later by transferring most of his authority to Vice President Omar Suleiman — all while retaining his title.
A wave of unrest on the heels of the transfer of power was ultimately enough to spur the Egyptian military into ousting the president and assuming control of the country.
U.S. military representatives have promised to aid the people of Egypt in establishing a new system of government and stated that the army does not intend to act as a substitute for the government.
Miller said she was cautiously optimistic about the uncertain future facing the nation.
"I hope they will hold free elections and let the people choose who they want as leader, but I don't know what's going to happen," she said. "Some of Mubarak's allies might still try to take control of the government. I guess we'll just have to hope for the best."
Rodriguez said while the people of Egypt have won a short-term victory, the long-term prospect of building a new government is an even greater challenge.
"Although the moment is important, what will come ahead in terms of how the new government is negotiated is even more significant, and hopefully there will be a way for people's voices to be heard regarding the type of regime and the type of state policies they want and need from any new government," she said. "Above all, I hope it is for Egyptians to decide, and no one else."