Leadership is a quality displayed best by the mature and experienced, and this holds true for the seniors of the women's basketball team, not just this season but for their entire careers while wearing the Blue and Gold.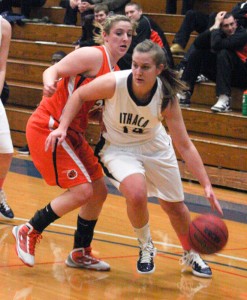 Seniors Jordan Confessore, Elissa Klie and Jane DeBiasse have been making an impact for the Bombers since stepping onto South Hill for their freshman season in 2007 and have consistently improved their performances throughout their four years on campus.
DeBiasse said this year's seniors helped bring solid team cohesion to the Blue and Gold from day one.
"Before we came here the team was very segregated," she said. "Ever since our class has come through we've brought the team together, and it really adds something special to the program."
In the past four seasons, Klie, Confessore and DeBiasse have helped guide the Blue and Gold to an overall record of 77–31 and a record of 57–5 in the Empire 8 Conference.
Confessore said it was an impressive accomplishment for the team, but it isn't a big surprise.
"We've all put a lot of time and effort into this so we try to play our best every game," she said. "With a 57–5 overall record in the Empire 8, it looks like it's really paying off."
En route to their dominating record in the Empire 8, the seniors on this year's squad were part of the first team in league history to finish a regular season 16–0 last season. The Bombers ran through league play before being upset 38–37 by Utica College in the Empire 8 tournament championship Feb. 27.
Klie said lifting the elusive championship trophy is the one thing she hopes to accomplish before the season's end.
DeBiasse said despite losing the championship, last season featured some of the best moments of her career as a Bomber.
"It was really the first season that I felt like all the players on the team were in it together," she said. "We were all close friends; we weren't just teammates."
In their final regular season home game, Confessore, Klie and DeBiasse combined to score 31 of team's 69 total points in a 69–51 win against Rochester Institute of Technology.
Confessore, a sport media major, has spent the past two summers working in the Athletic Communication and Sports Marketing Office at Rutgers University and said it's a field she will explore after graduation.
"I'd like to get a job in sports industry," Confessore said. "I'm leaning toward sport marketing or public relations for a professional team."
Klie, who will be finishing up her television and radio major next semester but will have played out her four years of collegiate eligibility for the Bombers, said she'll look to get involved next season by volunteering at basketball games.
As far as a career in basketball after college, Klie said she doesn't have anything planned in terms of athletics for her future.
"If I have children one day, maybe I'll coach them," Klie said. "But I don't think I'll end up doing anything on the professional level."