Available spaces for the ninth annual Women in Leadership Experience conference filled in record time this year, indicating the growing interest of students.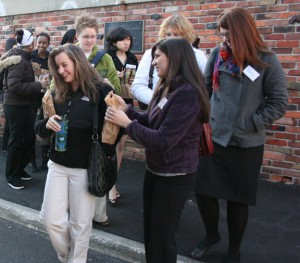 Registration for the conference began on Feb. 1. Michele Lenhart, director of student leadership and involvement and coordinator of WILE, said 32 of the 40 available spaces filled in the first two days of registration, and within 10 days, all of the spaces had been filled.
"I think that students must know about the retreat and were waiting for registration to open," Lenhart said.
The conference is a day-long event sponsored by the Office of Student Engagement and Multicultural Affairs where students, faculty and speakers come together in Seneca Falls, N.Y. — the host place of the first women's rights convention in 1848.
The conference focuses on exploring the perceptions of progress for women, including a look at challenges faced by past generations.  Lenhart said the conference also gives participants the opportunity to network with fellow participants and featured speakers.
Lenhart said the theme of this year's conference is "Communicating with 'Confidence and Power'" and will feature Phyllis Mindell as a guest speaker. Mindell, who wrote "How to Say it for Women: Communicating with Confidence and Power Using the Language of Success," will share tips for interacting in the workplace with students at the conference.
Lenhart said last year's participants spent the morning at the Women's Rights National Historical Park to learn about the experiences of past female leaders. The group then spent the afternoon listening to two guest speakers — Maria Coles, City of Ithaca alderwomen and Beth Prentice, president of the Board of Directors for Educate the Children International, an organization that works with women and children in Nepal to improve health, welfare and self-sufficiency.
Students also engaged in a series of exercises to hone skills necessary to successfully hold leadership positions in the future.
Senior Amritha Jacob, who attended the conference last year, said it was extremely helpful and eye-opening. She said it provides a historical context for the oppression of women while offering advice on how to battle that oppression today.
"There were so many different women from so many different backgrounds, different stories, different realities," she said. "Coming together and talking about their experiences was very compelling."
After receiving positive feedback from past attendees, Lenhart said the institute decided not to stray from last year's program.
Lenhart said events like the conference give female students the chance to gather the perspectives of women of different backgrounds.
"This is an opportunity for students to see some of the historical experiences that they may not have learned in classes, network with peers and prominent women leaders and engage in a meaningful dialogue about their own perceptions of women in the workforce," she said.
Lenhart said her favorite part about the experience is getting to work with students on personal leadership development.
"It is important for student leaders to have strong women modeling leadership practices, so that they can enhance their own leadership skills and behaviors," she said.
Lenhart said WILE has three specific goals in mind for this year's conference: for students to collaborate with others through active group participation, to examine their own cultural identities and to demonstrate critical thinking to address personal and community concerns.
Senior Zena Patel, a student leadership consultant in the Office of Student Engagement and Multicultural Affairs, helped coordinate the conference and will also attend. She said she hopes to learn more about how women rise to leadership positions.
"More often than not, women leaders are overlooked," she said. "It is important to empower women and highlight role models for them."