The New York State Department of Motor Vehicles issued new restrictions Feb. 16 to discourage distracted driving by adding license points in addition to current monetary cell phone penalties.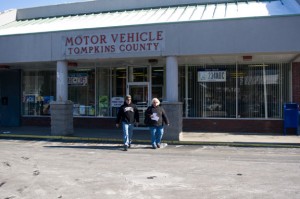 Under the updated regulations, people caught operating a vehicle while talking or texting on a cell phone without a headset will receive two points on their driver's license in addition to the current fine of up to $150. According to New York state law, talking on a hand-held cell phone while driving has been illegal since 2001.
Accumulation of license points can lead to higher costs for auto insurance and will result in suspension of a license if the owner gets 11 or more points in an 18 month period.
Aurora Valenti, director of the Tompkins County Department of Motor Vehicles, said the new driving regulations are a long overdue step toward promoting responsible driving and have been in the works for several years.
"I am always in favor of anything that will decrease automobile accidents and injury to life and limb," she said. "It's really very dangerous to have your mind on something other than your driving. I would hope that these rules encourage people to pay attention and keep both hands on the steering wheel."
A study titled, "National Highway Traffic Safety Survey," conducted in 2009 by the Federal Highway Administration, reported that drivers talking on a hand-held cell phone were four times more likely to crash than drivers without a cell phone. People texting while driving were shown to be 23 times more likely to crash.
Valenti said the regulations were developed by the DMV in conjunction with the New York State Police and local sheriffs' offices. They were also opened to public referendum, and no public comments were submitted for review.
Investigator Tom Dunn  said the new restrictions may provide more restitution for offenders than a fine.
"With a monetary fine, a person could simply pay it and be on their way," he said. "With points added to a license, people will be put on notice, and it might alleviate the problem of a repeat offender."
Valenti said she was unsure if the state plans to institute more road patrols or take any additional measures to enforce the cell phone policy, especially given the impact of the current recession.
"With the economy being what it is, most departments are not adding staff," Valenti said. "If anything, they are de-staffing. What it's going to cost us, I don't know."
Senior Chris Giblin said the decision to not use a cell phone while driving should be a matter of common sense and was annoyed by the idea that a state mandate should be needed to make students drive safely.
"I keep off the phone while driving, and I never text," Giblin said. "I've realized it's just not a good idea. Why put yourself in danger over something you can do much quicker elsewhere?"
Sophomore Valerie Falconieri said she wishes the new regulations weren't necessary.
"Maybe people will finally realize that you're not supposed to be using your phone while you're driving," Falconieri said. "If you're worried about emergencies, get a hands-free phone or something. It's ridiculous to me that it even has to be this way."
Giblin was hopeful the new regulations would prompt more people to adopt his viewpoint on cell phones.
"It just provides more incentive for people to stop doing it," he said. "People already know that it's illegal, and once they realize they'll have to spend money and get points in addition, they'll figure out how bad of an idea it is to use the phone."