Corinne Stern, a local artist, recently opened FLOOF Collage pARTy, a local business that invites groups of people with all different levels of artistic ability to get together and have fun creating art. She donates 20 percent of her fee back to local nonprofits.
Staff Writer Shea O'Meara spoke with Stern about how she thought of the name FLOOF, the process of starting her own business and her love of art.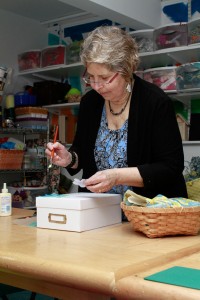 Shea O'Meara: How did the idea start?
Corinne Stern: Before I started FLOOF Collage pARTy, my new business, I had another business called FLOOF Designs where I sold my work, which is where my photography comes in. I sell the sculptures and little hats and things. Since my business is pretty new, the FLOOF Collage pARTy part, the most exciting time for FLOOF would have been the shows I was in and got to show my work and talk to people about it.
SO: Where did the name for FLOOF Collage pARTy come from?
CS: I started out by making little hats, like cocktail hats, sort of like facinators — that's what they call them in Australia and the United Kingdom. They kind of sit on the side of your head and patch with Velcro. A friend of mine said they were very 'floofy,' and that's how I got the name for my studio. It's related to the word fluffy. I took apart high-heeled shoes for the bling, and I would use yarn and lace and recycled fabrics. I would tear apart clothes that I bought used. …  I started making sculptures and little character heads out of Fimo clay and decorate those with little crazy-wild things like doll hair, things like that. My art was pretty funky, and I used a lot of silk flowers and things I found secondhand. So then my art studio started to fill up with so many materials that I thought, 'In a lifetime I'd never be able to use them all, so I'll have to figure out another way to distribute them into the world.'
SO: When did you discover you had an interest in art?
CS: In 2001. I was a nurse up until then. I decided I needed to retire from nursing, and I had wanted to be an artist since I was 16 years old, but my parents didn't feel that was a career they wanted to pay for college for.
SO: Why do you host workshops?
CS: I'm a teacher — I used to teach pre-school kids. I ran education classes for parents on how to help their kids, so I'm used to teaching. After attending a lot of art workshops myself, I decided, 'Why not run workshops for people to make collage stuff on their own?' I thought that would be a great way to share my materials.
SO: How did you decide on the location?
CS: I had a room in my house that was under-utilized. It was basically a store room, and it's right next to my garage. I started construction on it almost a year ago. It took a long time to get the permits from the town of Ithaca, but basically my first open house day was Dec. 12 this year. I invited people to come take a look, and now I'm trying to send out letters and using Facebook to get organizations to find me.
SO: Who can participate?
CS: I really believe that saying that everyone says, 'I don't have an artistic bone in my body,' really is based on fear and is not really true. Art isn't something that can be learned; it's about learning to see and not about what innate talent you have or think you have. I really wanted to encourage people to bring out the inner child and artist that is hidden inside everybody.
SO: Is there a certain target group who can participate in FLOOF? Do you have any specific goals for the shop?
CS: It would be a great opportunity for clubs or firefighters or people in special education, prisoners. … Just getting people to come and use art as a way of healing and community building.
SO: Since you aren't a professionally trained artist, do you still find yourself learning about art? What do you enjoy the most about your work?
CS: I really love hanging out with other artists because I have learned so much. … I can help people with how to look at the dimensions of something. You look at an apple and you say, 'Oh, it's red,' but it's much more complex than that.
FLOOF Collage pARTy is located at 135 Burleigh Drive. Contact Stern at 257-6418.