Senior Christina Bryant, a cinema and photography major, knew filming her final project was going to be expensive. Bryant; her director of photography, senior Ayshea Khan; and producer, senior Allie Taylor, were each going to put in $1,000, but it still wasn't enough.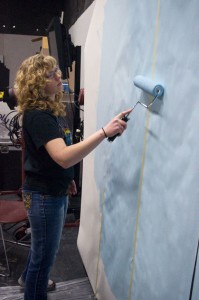 "Once we decided we wanted to shoot on 16-millimeter film, that was basically another $2,000," Bryant said. "So that's how we decided to do an IndieGoGo campaign."
According to Erica Labovitz, IndieGoGo's director of marketing, the website is a crowd source fundraising site that allows users to tap friends, family and complete strangers to fund their projects — such as "Jemila's Tale," Bryant, Khan and Taylor's film about a young girl living in a dream world. Besides film projects, the site features writing, theater, music and community projects trying to raise money. Labovitz said the site is based on the principle of resourcefulness and fundraising.
"Anyone with a great idea shouldn't be limited to funding from one wealthy individual or institution or bank," she said. "They should be able to pitch their idea and work hard to raise money themselves from the crowd."
Bryant said she had two reasons to use the site. In addition to the fundraising potential the website offered — the team made $2,127, just beating their $2,000 goal — Bryant said she was interested in the audience-building potential.
IndieGoGo takes a 4 percent fee if the project meets its projected goal and 9 percent if it doesn't. Payments are distributed via check or PayPal.
The site builds groundwork for an audience through social networking. Cornell University junior Jesse McElwain, publicity and outreach director for the "Schoolhouse South Africa" campaign, a student-designed project to build a school, said in the one month the group has used IndieGoGo, it had already made $6,000.
McElwain said social networking has been crucial to the success of their campaign so far.
"It's been really helpful in reaching out to family and friends," he said. "I've been posting about it on Facebook and Twitter. I tweet a link to the site at least three times a day."
Senior Matt Watkajtys, a cinema and photography major who raised $2,275 on the site to fund and promote his web series thesis project, said the trickiest part of the site was the trust involved. Since the website offers no guarantee of project completion, people who donate are trusting the outcome will be worth it. Watkajtys said the trend started with the independent film industry because of other similar websites and has grown out of a sense of shared success with the end result.
"People post their creative ideas, and if they think they have something really special, they ask people to contribute to their cause," he said. "It's all pretty much asking people out of goodwill for money to support their cause."
Senior cinema and photography major Dave Reynolds is also using IndieGoGo to raise funds for his film "Misfits." He heard about the site from friends and decided to set a goal of $2,500 to cover travel expenses to South Carolina, a location vital to his story.
Reynolds said he liked the site because it gave him more resources than just asking family and friends for help.
"It takes away the begging that comes with making student films," he said.
In addition to looking more professional to donors, the growth of social networking sites and users' willingness have been crucial to the success of IndieGoGo, Labovitz said.
"As people have become more comfortable with giving money online, it's really facilitated the process that people are able to pool donations from across the Internet and from their network and beyond to raise money," she said.
Samantha Abrams, co-founder of Emmy's Organics, a local vegan, raw and gluten-free dessert business, said she was drawn to IndieGoGo because of the passion behind their marketing. She wanted to raise $15,000 to rebrand their company and made $15,326.
"IndieGoGo definitely appeals to people who own their own businesses or projects that they're passionate about," she said. "It helped us move forward much faster than we thought we could. It appeals to people who are following their dreams, and that's definitely cool."
Groups can also set perks for potential donors. "Jemila's Tale" gave a free movie poster with each $20 donation, for example.
"They give advice about aligning the perks with the film or aligning the perks with the increments," she said. "So usually the higher the donation, the better the perk is."
Labovitz said she was excited to see students using the site for their creative ventures and hopes to see more in the future.
"We love having students using IndieGoGo," she said. "Students are just as capable as anyone else of having transformative ideas or passionate projects or things that they're working on that they either want to engage their audience with, tell the world about it or raise money for it."