The facilities at Ithaca College are notorious for being, how do I say this nicely, subpar? Whether it's the baby blue walls of Ben Light Gymnasium or the lack of lights on any outdoor athletic field that doesn't suit your fancy, this place has got its share of problems.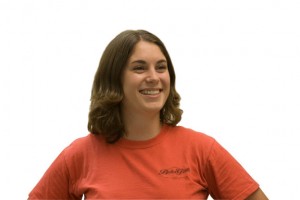 But with the new Athletics and Events Center in the works, many of these problems will be alleviated. Upon its completion, the men's and women's indoor track teams will finally have a place to call home, but currently, the outdoor squads are homeless.
With the current erosion of Butterfield Stadium's track, the two track and field teams will be unable to compete there.
"The issue is the track itself because it's just in kind of a state of disrepair," senior long jumper Kyle Devins said. "There's a lot of unevenness or rough spots in the track."
Devins said though the Bombers won't be able to compete on the track on campus, they've been cleared to practice on it. And while the two teams are used to traveling to Barton Hall at Cornell University for practice and meets during their indoor season, having to continue that trend in the spring is a bit of a nuisance.
Junior distance runner Heidi Baumbach said she's glad the home meets originally on the Bombers' schedule were at least moved to other tracks, but they won't have the same feeling.
"There's something to be said for competing on your home track," Baumbach said. "You have that sense of pride, and people from the campus can come watch you."
The Blue and Gold's two home meets have currently been rescheduled to SUNY-Cortland and Cornell. What was formerly the Ithaca Invitational is now the Ithaca/Cortland Invitational, which opens the teams' outdoor season at 10 a.m. March 26.
"We're the host of the meet even though it's at their venue," Baumbach said.
Because it's still technically the teams' indoor season, they'll continue to practice at Barton Hall until after spring break. For their outdoor meet at Cornell, the Blue and Gold will compete at the Robert J. Kane Sports Complex in a smaller, three-team meet including Cortland and SUNY-Delhi.
Baumbach said overall the team should feel fairly comfortable at Cornell.
"Our team has raced on there before so I feel like most people will be familiar with it, but it's just not our home base — the one that we're the most familiar with, not being able to run on it every day," she said.
Casey Musarra is a senior televison-radio major. Contact her at [email protected].