For the women's lacrosse team, the season will open with a new face guarding the pipes.
Sophomore goalie Jess Worthman will take over as the full-time starter for the Bombers this year, after Courtney Dowell '10 graduated. Dowell, a two-year starter, compiled 30 starts and 207 saves during her career, and the Blue and Gold went 17–13 with her in net.
But Worthman isn't completely untested. Last season, she filled in for Dowell in nine games — earning starts in two. Worthman turned in an 11-save performance and helped notch a 14–12 overtime victory against Rochester Institute of Technology.
Head Coach Karen Hollands said Worthman has the attitude to step in as the starter.
"I never think about her being young," Hollands said. "It doesn't even cross my mind. We're in a very lucky situation that last year, just by the results of some things happening, she got a chance to step in and be a starter."
The 5-foot-10-inch Worthman, one of the two tallest players on the roster, slides in and out of the cage with ease. She belts out defensive calls fluidly and naturally, and her length helps her to deftly save shots that deserve to be goals. Worthman said last year's practice helped to mold and create the player she is this season.
"Last year I had no expectation to play on the field, so going into practice I just wanted equal playing time," Worthman said. "From there, the experience helped me gain confidence this year to be the starting goalie."
Though Worthman proved to be an important piece of the Bombers' run to the Empire 8 Championship game last year, Hollands said Worthman has fully stepped up into her position this season.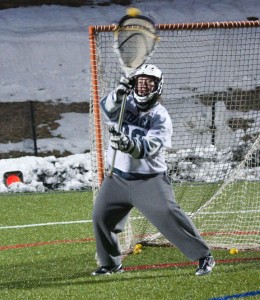 "From last year to this year, Jessie has just matured rapidly," she said. "She's been very, very solid for us in the beginning of this preseason. Her entire demeanor is just very confident."
That added confidence could help carry the Bombers to a championship season. Hollands said Worthman's fresh attitude was cultivated before the season even started.
Hollands and Worthman sat down this preseason and talked about what it means to be a goalie. Hollands said the role of goalie is similar to a quarterback or center on a football team, and Worthman is up for the challenge.
"She's taken on that responsibility without needing a couple years of grooming," Hollands said. "She is clearly ready to play that role and has done a great job thus far."
Senior defenseman Liz Marino said Worthman's assurance in the net is evident to the entire team.
"I always say, 'Don't act like a sophomore; act like a leader,' because the goalie should be the leader of the team with a loud voice and controlling and everything," Marino said. "We all look up to her on defense, calling out plays, calling out a change in defensive strategy."
Worthman said she's thrived off the pressure of being the starter, and she's embraced being a loud director on the field. Her voice is distinctly heard throughout defensive possessions. She conducts the defense like an orchestra — her hands and arms moving with precise gestures, pointing out where players should slide with rapid movements. She is always prepared, knees bent, waiting for a shot.
"I'm a much louder presence on the field, and the D kind of looks at me," she said. "When a goal goes in we huddle together. We can communicate what's going wrong, and I'm the leader of that in regards to the holes in our defense."
Worthman said her playing style isn't the "sit in the net" goalie type, and she wants to have a role in the flow of the game.
"I'm a pretty active player," Worthman said. "I like to get out and be on the D. This year I'm learning how to step out more, be a part of the defense more than just being a goalie standing in the cage."
But Worthman isn't the only goalie on the team. Freshman Brittany Romano is the only other goalie on the Bombers' roster. Hollands said though Romano has been working hard in practice and getting better, for now Worthman is the team's clear starter.
Worthman will be anchoring a Bomber defense that gave up 159 goals last year, more than nine goals per game. With an offense that scored 220 goals this past season — just less than 13 per game — the team will turn to Worthman's presence in the cage to sustain a  more favorable ratio of goals scored to goals allowed. Marino said she expects Worthman to play a large role in that success.
"She's a great asset to the team," Marino said. "We couldn't ask for anything better from her. She improves every day, and she's going to have a great season."