The dangers of horizontal hydraulic fracturing are coming to the forefront of New York state's attention as the timer ticks down for the July 1 conclusion of the de facto Marcellus Shale moratorium.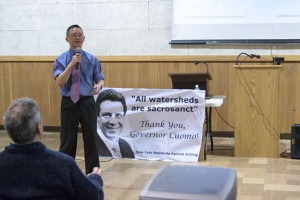 On July 1, the temporary ban ordered by former Gov. David Paterson on horizontal hydraulic fracturing or "fracking" will be over. Executive Order No. 41 requires further environmental review on the method of high-pressure horizontal fracking in New York.
The order requires the New York State Department of Environmental Conservation to review public comments and analyze the environmental impacts of horizontal hydrofracking. Until July 1, no permits for high pressure horizontal fracking can be issued.
Horizontal hydraulic fracturing or "hydrofracking" is the process of extracting underground resources such as oil and natural gas. It involves pumping upwards of 5 million gallons of water, sand and chemicals into wells to extract these resources.
The Marcellus Shale, which extends to Ithaca through Pennsylvania, is a black shale formation that geologists estimate contains between 168 to 516 trillion cubic feet of natural gas.
Yesterday, more than 80 Ithaca community members attended a presentation about the executive order and implications of hydrofracking, put on by Toxics Targeting, Inc., an environmental firm in Ithaca that compiles information about gas drilling problems in New York state and Pennsylvania.
John and Susan Mead, who live and grew up in Ithaca, said they are worried about what would happen if fracking was introduced in the area.
"We feel it's a tremendous, tremendous almost surely destructive thing to do," he said. "Our drinking water comes from Cayuga Lake."
The Environmental Protection Agency estimates that shale gas will make up more than 20 percent of the total U.S. gas supply by 2020. However, the EPA states that environmental impacts in the area of the drilling facilities are emerging.
Walter Hang, president of Toxics Targeting, Inc., said hydrofracking creates waste water that is highly contaminated with salt and chemicals.
"These regulations are just very difficult to come up with if you have the treatment plants that just can't handle this wastewater," he said.
Hang said the Cayuga Heights wastewater treatment plant accepted nearly 3 million gallons of hydrofracking wastewater almost two years ago that it wasn't designed to handle. Though wastewater isn't treated at Cayuga Heights anymore, other plants in Auburn and Cortland continue to receive polluted water they aren't capable of treating.
"All hazardous waste has to be tracked from cradle to grave," Hang said. "We don't have that for gas drilling wastewater, even though it has the potential to cause really extensive pollution problems."
Congressman Maurice Hinchey sent a letter to the EPA on Feb. 28 calling for immediate action to protect the nation's drinking water supplies from radioactive hydrofracking wastewater.
"We can't afford to take the 'wait and see' approach when it comes to radioactive, carcinogenic materials contaminating drinking water," Hinchey said in the letter.
Hinchey also called on the EPA to speed up its study of the impact hydrofracking has on drinking water.
In Gov. Andrew Cuomo's "Cleaner, Greener New York" plan, he states that ensuring a supply of low-cost natural gas is important, but that he does not support drilling that would threaten drinking water.
Freshman Kaela Bamberger, president of IC Frack Off, a club on campus devoted to raising awareness about fracking in the community, said this semester is important because of the approaching end of the moratorium.
"This semester is big because we have to try to stop it," she said. "If it comes, we're really going to have something to do."
Bamberger said the Finger Lakes region is the epicenter of New York fracking, and though there is no horizontal fracking yet in New York, vertical fracking still exists in the area.
"There's so much land and a lot of poor farmers around here who take money," she said. "They think they're getting a great deal, but they're actually setting themselves up for water pollution and air pollution."
Brian Rahm, post doctoral associate at the New York State Water Resource Institute, said there is a whole service industry fully-equipped to manage the wastewater, and these industries often set up temporary or permanent facilities on site.
"Let the service companies treat the water, bring in their technologies," he said. "That would be better than placing the burden on our town treatment facilities."
According to the DEC, each well uses at least one million gallons of water. Two benefits the DEC highlights of horizontal drilling are producing more gas from a single well and better use of space.
On March 2, Robert Lestz, chief technology officer at Gasfrac, presented his method of waterless fracking at Cornell University. He said the company's method of using propane in place of water has eliminated the use of water and the need to dispose of water after the job.
"Everything that flows back from our wells after stimulation can be either recaptured, reused or could be sold," he said.
Lestz said Gasfrac has worked on 700 wells, 90 percent of which were located in Canada. He said he sees the technology fitting with the challenges of the region.
"This is another technique to further enhance the economics and environment of the Marcellus in a responsible way," he said.
Hang said in theory, propane reduces problems associated with flow back wastewater but doesn't deal with the produced water or brine. He said brine water may surface from wells for up to 30 years in the Marcellus Shale.
Hang said Toxics Targeting drafted a coalition letter to Cuomo that is just a "hair away" from 4,000 signatures.
"The entire issue rests on the shoulders of Governor Andrew Cuomo," Hang said.
To view the coalition's letter visit http://www.toxicstargeting.com/MarcellusShale/cuomo/coalition_letter.