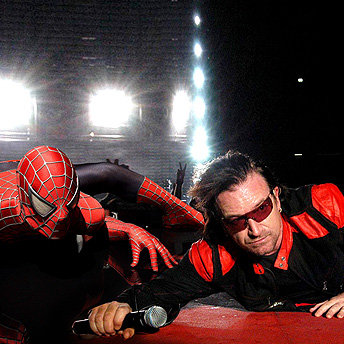 I've been waiting to see the U2-scored "Spider-Man Turn Off the Dark" for a while now. Besides it featuring music by U2, it just sounds like it would be unbelievably awesome…if they could just get the show off the ground. The show has been in previews since November and this week the creative powers announced an overhaul of the production that will push the show's official opening until June.
The show has been running into a myriad of problems including snapped safety cables, actors with broken appendages and disastrous preview shows. The production's promoters are currently battling the press after critics who attended preview shows published scathing reviews. Typically, critics don't formally review the show until it's opening. This was the main problem organizers had.
With the new opening set for June, director Julie Taymor will be taking a less prominent role in the show's preparation. The script is being re-worked, staging is being re-created and they'll of course be figuring out the intricate and dangerous choreography. A new crew of sound engineers and musical consultants has also joined in.
Hopefully these emergency measures can get Spidey out from his own web and back to fighting crime. Until then, I'll be contemplating how I'm getting to one of the final shows of Green Day's "American Idiot."