Neatly pinned across the walls at a recent Cornell University Sustainable Design meeting were pages of graphic design proposals for a sustainable preschool, with quirky reusable features like glass bottles, among other elements.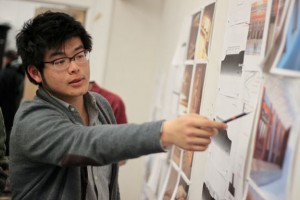 In October, four team leaders from Cornell University Sustainable Design, a student organization that creates sustainable designs, visited Cosmo City, the building site for their project, Schoolhouse South Africa. The students observed similar projects in the region and are now focusing their energy into laying the foundation for an environmentally friendly preschool.
Sixty-two students are working on  designs for a 6,000-square foot early childhood development center. The crèche, the local term for a day care center for infants and young children, will take two months to complete as long as the group can raise $150,000.
Junior Karen Lin, materials procurement liaison, said the project inspired CUSD to help the environment and serve the global community.
"We wanted to pursue a program that would be ecologically sustainable," she said. "We're not only teaching kids there, giving children an education, but also teaching a lesson of stewardship for the students here at Cornell."
CUSD has partnered with South African-based nonprofit Education Africa to supplement its designs with more cultural knowledge.
Junior Jesse McElwain, CUSD liaison and logistics director, said SSA extends beyond African children by training caregivers on how to also become educators. The preschool will also serve as a teacher training facility.
The project consists of three phases: research, design and building. With a grant of nearly $1,500 from the Cornell Council of the Arts, the students published a 207-page compilation of research they gathered from August to December.
Lin said the university integrated the project into a second-year architecture studio class, which uses "Cosmo City: Comprehensive Context" as one of its textbooks. She said CUSD students developed a full set of working drawings their peers can now refer to when designing.
Barry Beagen, a December 2010 graduate and leader of the group's initiative, said the project is an opportunity for students to challenge themselves while getting hands-on experience they may not receive in the classroom.
"What's most important about this project is the fact that you kind of have to think in a different framework given limited resources to design and engineer something," he said.
Second-year architecture students are currently drafting 10 designs and sketches based on observations from its visit to Cosmo City last fall. The group is narrowing down its proposals to five plans and will choose one to propose to its partners in Africa.
McElwain said the crèche designs shy away from a culturally imposing structure. For the project to benefit Cosmo City residents, he said they'll need to know how to maintain the prospective learning center.
"We are really trying to make this building as ingrained in this community as possible," McElwain said.
As a result, he said the school's structure emphasizes minimal energy use because of the high costs in the region.
Several other designs include gabion walls, which steel cages enclosed by large, weathered rocks.
Beagen also said the building's architecture is critical to maintaining  natural heating and cooling. He said the group might implement rammed earth walls, which recycle excavated soil from the school's foundation and use it as building materials.
"Earth has a really insulative property," he said. "It's actually a good thermo mass to distribute heat over the day."
In addition to natural resources, the group intends to use materials entirely from the Cosmo City region. He said he hopes city businesses will donate building materials to avoid additional importation expenses.
Thus far, the students have raised $65,000 in donations. Aside from local donors, Lin said CUSD is using IndieGogo.com to raise money, as well as seeking corporate donations to help meet its financial goal.
"We're looking at corporate sponsorship so that we can get products donated to us," Lin said.
McElwain said CUSD has until April 30 to meet its milestone marker of $75,000, otherwise the group cannot implement the plan this summer.
He also said CUSD is pressing forward with its fundraising campaign to meet its goal. Recently, the students raised almost $800 from a bake sale on Dragon Day, a traditional event in which Cornell's first-year architecture students construct a large dragon.
"We're sort of facing the barrel of the gun," he said. "At this point it's going to be really down to the line if we can manage to raise enough money in time."
To see CUSD's work on the Schoolhouse South Africa project, visit http://cusd.cornell.edu/ssa
As of April 6 corrections have been made to this article.