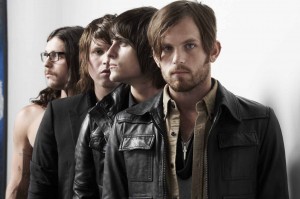 I really like bio-pics and documentaries, especially those that revolve around music. When I first saw It Might Get Loud, I fell in love. For those who may not know, the doc brings together Jack White (White Stripes/The Raconteurs/The Dead Weather), Jimmy Page (Led Zeppelin) and The Edge (U2). The three talk about how they started out, where they went and how they got there. I tried to go see Gimme Shelter, a Rolling Stones doc, but my plans were foiled by the wonderful Ithaca weather.
So I got pretty excited today when it was announced that Kings of Leon will be releasing a documentary called "Talihina Sky," the namesake of a hidden track on "Youth & Young Manhood." My main criteria for being one of my favorite bands is your name should begin with a "K" or has the word "The" in the title. Kings of Leon fits the profile. It's just weird how it works out like that. But I am psyched for this documentary.
I feel as though Kings of Leon is a band shrouded in mystery. For being one of the biggest rock bands in the world right now, they are remarkably old-fashioned. They are the sons and nephew of a preacher man who grew up surrounded by religion in the South. It is truly a family operation, right down to their roadie Nacho. I think it will be interesting to see the documentary take on the classic religion versus rock and roll issue.
Check out the trailer below (caution: some segments NSFW):