If hurdles were a piece of music, they'd be Latin-infused. At least they would be if it were up to sophomore Matt Confer.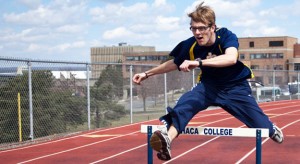 "That music is so percussive and so about rhythms," Confer said. "Hurdles involve staying in rhythm and making sure that you're keeping yourself constant, so anything rhythmic like that is what goes through my head."
Confer, the principal trombonist of Ithaca College's Concert Band and bass trumpeter for the college's Symphony Orchestra, is constantly aware of rhythm and how it drives his performance. And as a hurdler on the men's track and field team, Confer, a music education major, is also aware of how both his passions intertwine.
Confer actually stumbled into both hurdles and the trombone more or less by accident. In fourth grade his teacher had him pick two instruments to try out, Confer picked the saxophone and the trumpet.
"I couldn't make a noise out of the saxophone so my teacher had me try the trumpet," Confer said. "I kind of got the sound out of that, so she said, 'OK, try something a little bigger' and had me try the trombone. It seemed to fit.'"
When Confer took up track in seventh grade, he was a long jumper and did not even compete in hurdles until his sophomore year at Webster Schroeder High School in Webster, N.Y.
"My attitude going into the long jump was just, 'Well, let's see what happens," Confer said. "And hurdles just looked like an interesting thing to do."
Once he started hurdles however, he took to it, qualifying for the state meet as a senior. But Confer said it wasn't his success on the track that determined the next step he'd take after his senior year.
In high school, Confer played for the Rochester Philharmonic Youth Orchestra. He said it had an enormous effect on him, especially during his first concert, when the orchestra performed the low, brass-heavy, Symphony No. 5 by Dmitri Shostakovich.
"We had a very strong low brass section, and it was an extremely fun piece to play with a bunch of strong musicians," Confer said.
The experience of playing in the orchestra also allowed Confer to work through his nervousness. One time when the orchestra was playing Nikolai Rimsky-Korsakov's "Scheherazade," Confer said, he was caught off guard by a solo part he had to play.
"I got nervous and completely messed up the excerpt because it was an exposed part, and I wasn't expecting it," he said. "Once that initial time passed, I got more comfortable."
Finding his comfort zone, Confer continued to pursue his career in music.
"My experiences there just confirmed it," he said. "It was the most fun I had being a musician, and it made me want to play in the orchestra at Ithaca."
Harold Reynolds, professor of music performance and Confer's trombone teacher, said Confer, despite his multiple commitments, has established himself through his music.
"Matt's one of our best trombonists," Reynolds said. "He's a leader, which is pretty unusual for a sophomore."
As a member of the men's track and field team, Confer kept up his commitment to hurdles, competing in every event and tying the South Hill squad's indoor record in the 55-meter hurdles. Outdoors this past season, Confer garnered All-New York State Collegiate Track Conference recognition with a sixth-place finish in the 400-meter hurdles at the meet.
Up to the second he takes the blocks, Confer is focused on the hurdles in front of him. He brushes the hair out of his eyes as he bounces on his feet, as if developing his own internal rhythm. Once the gun sounds, Confer shoots over the first hurdle, his long frame giving him the appearance of gliding from hurdle to hurdle. And it's this same focus that he carries over to his music.
During band practice, he's visibly focused on his task — hands moving with careful precision, brow furrowed, his face concentrating entirely on the music. He is completely engrossed in the music, fingers sliding around his trombone, pulling it back and forth, stopping only when the conductor signals.
It's this dedication and focus that has earned Confer the respect of his teammates and Head Coach Jim Nichols.
Nichols said even when Confer's duties as a music student overlap with those as an athlete, Confer remains committed to both.
"Sometimes he'll have to come to practice late or practice by himself," Nichols said. "He does a good job of maintaining the focus necessary to do both track and music."
Sophomore Jenny Grossman, who plays trombone alongside Confer in Trombone Troupe, which was formed during his freshman year because members shared a similar interest in billiards and music, said Confer isn't all business.
"He's a great musician who's dedicated to what he's doing and likes having fun doing it," she said. "He always has good comments how to improve a piece, whether by dynamic contrast or balancing between players."
Confer said one aspect that underlines the connection between music and track is timing and rhythm.
"It's all about concentration," he said. "You take a certain number of steps. You get into a motion and essentially the person who wins is the one who stays in motion."
At the track team's meet this past weekend at Muhlenberg College in Allentown, Pa., Confer said he came off the line strong, but went a little too high on a hurdle toward the end, finishing third overall. Confer said, much like him missing a cue in music, certain performances stick in his mind.
You always forget your best races," he said. "You always forget them. But you never forget the ones you did terrible in."
Besides rhythm, Confer said, breath control is key in executing on the track and music.
"My aerobic activity helps in that I can take fuller, bigger breaths and control my air support better," Confer said. "I have much more control over how I breathe when I run and play trombone."
Though music is a large part of his life, Confer said he prefers not to listen to music before meets.
"Being a music major, I am barraged by music and sounds constantly," Confer said. "Before races, I try to get away from that and focus on the upcoming event."
During his freshman year, Confer said he would sometimes bring his keyboard to practice in hotel rooms after away meets, and he and his teammates still joke about it.
Senior hurdler Kevin Hurley said Confer stands out among his peers on the track.
"We're all impressed that he can be involved in so many things and have so many musical interests," Hurley said.
On those rare occasions where Confer has enough time to get away from track and music, he said he likes to visit the gorges and spend time outdoors, running and camping.
Confer said he gets different things out of his two passions, and taking time away from each to commit to something else helps him remain focused overall.
"The reason I stay involved in track is to separate myself from the music world," he said. "It is my one outlet from music. Every once in a while, it is nice to step away and regain my focus by working on something else."