Kate Middleton pleased both her critics and adoring crowd members in a gorgeous Alexander McQueen gown designed by the brand's creative director Sara Burton. The long-sleeve ivory and lace dress had an 8-foot long train that flowed down the aisle with grace. Simple yet elegant, Kate's choice was both sophisticated and classic. She wisely avoided overly puffed-out designs, and her plunging neckline left most to the imagination. Letting a timeless cut replace modern style, Kate's gown showed a lasting beauty and befitted the new princess perfectly.
As tradition dictates, the women attending the royal wedding wore hats of all shapes and sizes. For some, head wear was a beautiful accessory. For others, the hats were a major offense to fashion police watching the event from around the world. Princesses Beatrice and Eugenie were a bit more bold and donned oddly shaped hats that did not gain public approval. If the mainstream media calling Princess Beatrice's bow-shaped hat a top-notch mistake isn't enough to make the princess regret her pick, the Facebook group for people who hate the hat may do the trick. Not a total disaster, Lady Sophie Windsor and Princess Michael of Kent got it right with simple yet elegant designs that matched their dresses beautifully.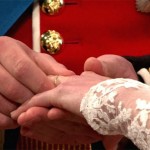 Not
The Ring
Like hemophilia, there are some things royals need to stop passing down the family line. Middleton's ring was made from a piece of gold given to Prince William by Queen Elizabeth after the engagement was announced. It came from a small quantity of Welsh gold the British Royal Legion gave the Queen in the '80s specifically for making wedding bands. While this is a noble tradition, Middleton's gold band had no jewels and lacked the luster expected of a new princess.