Adjusting to new schemes, plays and formations makes coaching changes in football hard to adapt to. Luckily for new Defensive Coordinator Mark McDonough '02, he's already familiar with his surroundings.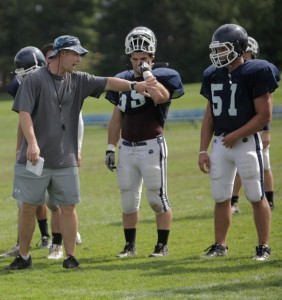 McDonough, a starting linebacker for the Bombers for three seasons from 2000 to 2002, spent six seasons as the linebacker's coach at Division I-AA College of the Holy Cross and two seasons at Springfield College in the same position. Now he's back on South Hill.
McDonough, who played under current Head Coach Mike Welch, said coming back to Ithaca College has been a surreal experience.
"It's a great feeling to be back and it's the first time I've been here for an extended period of time since I graduated," McDonough said. "It's a little different being on the coaching side of things rather than playing, but it's been a good experience working with the players and going through training camp."
McDonough said playing for Welch and now having the opportunity to work alongside him has made McDonough appreciate Welch that much more.
"Coach Welch is a wealth of knowledge and has been a wonderful resource in the short time that I've been here," McDonough said. "I can't say enough positive things about what he's done for me already — and of course giving me the opportunity to come back and work for him has been wonderful."
McDonough is replacing Mark Ross and Pete Mayer. Ross served as the Bombers defensive coordinator for the last four seasons and was part of the staff when McDonough graduated. Mayer served as the defensive backs' coach. Ross left the Blue and Gold to become the first head coach at Misericordia College in Dallas, Pa.
McDonough said Ross left a strong defense and not much change is needed.
"I have a tremendous amount of respect for Coach Ross and Coach Mayer," McDonough said. "Both of them did a fantastic job with the defense while they were here and I just want to put the players in the best position possible to take advantage of their skill set."
Senior linebacker Eric Toporoff, last year's team-leading tackler, said McDonough's enthusiasm and energy in practice has the players excited for the season.
"Coach Mac knows his stuff and is highly motivated," Toporoff said. "He brings that to the table every practice and it has the guys ready to go."
Junior free safety Josh Liemer said the defense  has been able to get to the quarterback quicker in training camp under McDonough.
"He has us playing with a lot more energy," Liemer said. "We're putting a lot more pressure on the quarterback and getting after him every play."
Liemer said with the knowledge that the defensive front is new, there is some added pressure on the veterans in the secondary to step up.
"We've all played in games before so we do know what to expect," Liemer said. "We know when it counts, though, we'll be able to make the plays."