Tompkins Consolidated Area Transit has partnered with Ithaca College this semester to offer late-night service with half-hour stops Thursdays through Saturdays.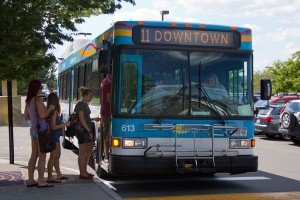 The new service took effect Aug. 18 and will continue throughout the year as a pilot program. Routes 11 and 90 from the Commons to the college offer service every half hour from 9 p.m. to 2 a.m. Thursdays and Fridays and from 11 p.m. to 2 a.m. Saturdays. The old schedule ran every hour until 1:30 a.m.
Brian McAree, vice president of student affairs and campus life, said the college began discussing the possibility of extending TCAT services during the spring semester. McAree, along with Assistant Vice President Anthony Hopson and Common Council Member Jennifer Dotson, sat down with the representatives of public transit to begin the process.
McAree said the college pursued the initiative to encourage students to ride the TCAT rather than walk back and forth to campus on streets like 96B that don't have sidewalks. He also said offering transportation would reduce the number of students wandering South Hill at night and disturbing neighbors.
"Students walking up 96B is a problem as well as Hudson Street and Coddington Road," he said. "Our goal is to have students utilize the service, have a safe transport to and from downtown and also hopefully reduce the difficulties some of our neighbors experience with students walking through the neighborhoods."
McAree said the college will have to fund part of the project, but declined to comment on the amount. He said the service is a pilot program and the college will determine whether to continue working with TCAT on the initiative once they know if it is cost effective.
Freshman Beatriz Montilla used  TCAT during the summer and said she is excited to take advantage of the new service this fall.
"It will save people a lot of money because you wont have to pay for a cab," she said. "It will mean that a lot more people will go out because they will be able to come back later instead of having to put a limit on when they come back."
The Student Government Association also drew up a transportation plan for students, but for a slightly different purpose.
Last year, SGA designed a shuttle proposal to provide transportation for students to travel from campus to the Circle Apartments and downtown.
Robert Flaherty, vice president of communications for SGA, said the shuttle proposal aims to provide sustainable transportation for students during the day, as opposed to the new TCAT service which provides late-night public transit. However, he said, SGA applauds the college and TCAT's efforts.
"I don't think it goes far enough, and that is why [the shuttle proposal] is of such importance," he said. "But it is definitely a step in the right direction."
Doug Swarts, service development manager of TCAT, said the new service is a way to reach out to the college community, and TCAT is happy to meet its passengers' needs.
"It will make transit more appealing not just to students, but anyone who uses the service at that time," he said. "It's good for the passengers, good for the community, good for us."