With last year's starting quarterback Rob Zappia, who tossed 2,507 yards and 19 touchdowns, having graduated, the South Hill squad's season rests on unproven shoulders.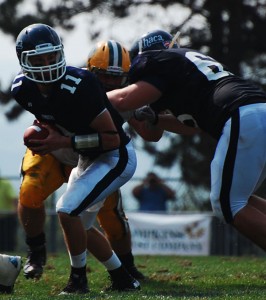 In its season-opening 19-14 victory against SUNY-Brockport, the football team featured two quarterbacks: sophomore Phil Neumann and junior Jason Hendel.
Neumann earned the start in Saturday's game and completed 16 of 30 passes with 194 yards and one touchdown. Hendel also provided a crucial spark to the offense by throwing a 30-yard touchdown strike, while also rushing for 17 yards.
Neumann won the Marty Higgins Award last year, which earned him the distinction of the Bombers' top junior varsity football player. He said though his experience as a freshman last year was solid preparation, this season has still been a learning experience.
"I had to learn a few new plays since the playbook always depends on what kind of offense we want to be," he said.
Though Neumann took the majority of snaps for the Bombers in the team's first game, Hendel likened his current role on the team to when quarterback Michael Vick was a signal caller for the Philadelphia Eagles subbing for Donovan McNabb. He said in both situations each quarterback provided their own playmaking dimension to the offense.
Sophomore offensive lineman Dan Fischer said each quarterback brings his own distinct positive qualities to the field when in the huddle.
"Phil is much more of a pocket passer and Jason is more a new-age athletic type," he said. "He'll run the ball if he gets in trouble and create opportunities to make the plays longer. They're two different quarterbacks that both have very good upsides."
The Bombers' offense hopes to piggyback off of last year's 24.2 points per game average.
In a sport where team chemistry is imperative, having two options at quarterback might affect team cohesion. But Hendel said the Bombers have used the quarterback situation as a driving force for unity.
"Quarterback is a very individualized position," Hendel said. "One guy plays for the most part. But I kind of went in with Phil and all the guys and said, 'Let's make this a unit. We need to be there for each other competing against each other because that's going to bring out the best.'"
Neumann said the team's quarterback situation  this season does not affect the big picture for the Blue and Gold.
"We're all friends, and we all try to help each other out as much as we can," Neumann said. "We're all on the same team, so we're all going for one thing."
Whether it was Neumann's precision or Hendel's playmaking knack, the Bombers netted 332 yards of total offense in the first game of the season.
Neumann said though the team recorded the win, there is still work to do in the offensive end.
"Keeping the team even-keeled as much as you can is essential as a quarterback, and keeping yourself on the same level no matter what happens is very important," Neumann said.