Bill D'Elia '69, a graduate of the television-radio program at the Roy H. Park School of Communications, will be the keynote speaker at the Rod Serling Conference at 8 p.m. tomorrow in the Park Auditorium. D'Elia plans to talk about how he learned a valuable lesson in how to tell a story from "The Twilight Zone" creator and writer Rod Serling.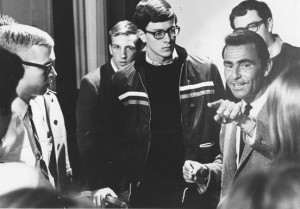 D'Elia is an Emmy award-winning director and has worked on shows such as "The West Wing," "Picket Fences" and "Boston Legal." He is currently producing "Harry's Law," a dramedy about a law firm.
Staff Writer Alyssa Frey spoke with D'Elia about what he learned when he was Serling's student and how it applied to his life.
Alyssa Frey: What did you concentrate on most in school?
Bill D'Elia: I don't know that I actually concentrated on any one thing, and I certainly did not concentrate on directing. I actually — that early on — did not intend to become a director. I never thought about that until much later in life. I loved to write, and I loved to put things together. Mainly I just liked making stuff up. I loved telling stories. And I suppose I still like making stuff up.
AF: What organizations were you involved in at the college to supplement your degree?
BD: I did a lot of extracurricular work with WICB. I was a DJ for a while, but I believe we were the first class to broadcast regularly to the community. I had a weekly show that was on called "The Clubhouse with Bill and Bill." It was a cute show, and then we did a one-hour special in my senior year. I spent a lot of time making stuff up at the TV station.
AF: You were here when Rod Serling taught. What courses did you have with him?
BD: Well, he was a visiting professor while I was there from my sophomore year to my senior year, and he would come in for two weeks per semester. I was lucky enough to be among a handful of students that, because I was so involved with extracurricular stuff, got to spend a lot of time with him. He would come in for lectures and discussions and he would screen certain things and then we would talk about them. We screened [our WICB programs] for him and we had an analysis afterwards. We got the benefit of his wisdom of what he thought about it. It was all about creating television and movies.
AF: If someone were to compare you to Serling, what similarities would they say you share?
BD: Oh my gosh, I don't know how to answer that question. I'm still so flattered to even be in the same sentence that I freeze when I'm compared to him. He has such a particular and unique voice in the history of television. I'd like to think that my work speaks with a single voice as well. If there is a comparison to be made at all, it's that there was a distinctive tone to the work he did that straddled the believable and the unbelievable.
AF: Would you say you were influenced greatly by his work?
BD: It's a tone that I seek to straddle in my own work to make things seem ridiculous because my stuff is more comedic and off-beat.
AF: Prior to your directing and producing career, you made television commercials in New York City. How does that compare to the film and television industry?
BD: As a director you constantly want to put the best product on the screen and make it look the best — make it feel the best. As a guy that owned his own company, you recognize that when you spend the money, it's going to help the project look better, and if you save the money it's going to go in your pocket. Because of that, you take great care in the art direction and construction of every shot because you know it's going to be seen by millions of people millions of times. I also took that discipline with me to the movie and television career. Every time you're making a shot, you can't help but think like that.
AF: Is there anything you still want to accomplish?
BD: Yes, there's always something I'd still like to do in the entertainment industry. I'm doing what I love and I don't think you can ask for much more than that. … I just hope to continue to be able to make things up and to get people to watch it.
AF: Do you ever think you will stop producing and directing to settle down and become a professor like Serling did?
BD: I don't know if I could ever stop doing this, but I do very much enjoy going and talking to students about it. I find it thoroughly rewarding, and I do see a future where I would be more involved in doing something like that. But the only time I'm going to stop doing what I'm doing right now completely is if the phone stops ringing. If nobody wants me to do it anymore, I'll take that as a sign. I don't ever want to stop doing this, but yes, I do see a time where I could look forward to really wanting to do more in terms of teaching.
The Rod Serling Conference runs tomorrow and Saturday. Events include D'Elia's keynote, a "Twilight Zone" marathon and several panels. Visit www.ithaca.edu/rhp/serling for more information.