More than four decades ago, a tiny natural foods market opened with the goal of providing Ithaca with affordable, healthy and organic food options, all while encouraging the importance of community and environmental awareness. Over the years, GreenStar Natural Foods Market has not only met its goal, it's surpassed it.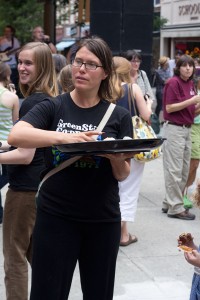 GreenStar, Ithaca's local natural food co-op, celebrated its 40th birthday Friday night with a public party on the Commons.
GreenStar has been Ithaca's leading provider of everything healthy and organic for the past 40 years, including organic produce and natural nonperishables.
Friday's event was complete with a bounce-house, free prizes and dozens of chocolate vegan cupcakes frosted with pastel colors, commemoratively iced with cursive number "40"s.
The crowd gathered in front of the Downtown Ithaca building, vegan cupcakes in hand, and shouted "40 more years!" while posing for a celebratory photograph.
For Joe Romano, marketing manager for GreenStar, his job has been nothing less than a labor of love. He has lived in upstate New York for 42 years and always admired Ithaca for its college town atmosphere. It wasn't until he entered GreenStar for the first time nine years ago that he realized just how much he wanted to move.
"I just remember thinking, 'Okay, if Ithaca is the party, then I just walked into the kitchen,'" he said. "I made my decision to move to here based solely on that."
Soon after moving, Romano got an entry-level position at GreenStar that he held for two years until being promoted to marketing manager, a position he has retained for the last seven.
GreenStar's 40-year journey began in 1971 when citizens — fed up with the costly, processed food for sale in the various chain markets in town — yearned for healthier food options. In an effort to bypass the need for a store run by a corporation, the Ithaca Real Food Co-op, today known as GreenStar, was created.
"In the beginning they were only a dozen people who had no capital and no place of their own," Romano said.
The Ithaca Real Food Co-op began as a pre-order buying club. People could order fresh fruits, vegetables, grain and natural nonperishables that would be picked up every Saturday from the farmer's market in Syracuse.
Romano said it wasn't until someone forgot to preorder and asked to buy leftover garbanzo beans from the back of the warehouse that the idea of transforming IRFC into a retail business was proposed. Members of the co-op ultimately disagreed over the issue. As a resolution, people in support of the retail idea split off from IRFC and created GreenStar.
Over the years, GreenStar has changed its location several times. Once, and most famously, in 1983 during the move from Fifth Street to its current location on West Buffalo Street, inventory was transported using a massive human chain.
GreenStar expanded in 2004, adding the privately owned Oasis Natural Food Store location in the DeWitt Mall. GreenStar Oasis was opened that May.
Ithaca College freshman Morgyn Sattenspiel has already become an avid GreenStar shopper.
"There are certain things I buy at GreenStar that I wouldn't be able to find anywhere else," she said. "From the moment you walk though the doors, you know it's a special place."
Today, GreenStar has more than 8,000 members and more than 175 local employees. It is the largest living-wage retailer in the county.
Debbie Lazinsky, a member of the marketing department at GreenStar, said GreenStar's commitment to strengthening the region's economy through local business is especially important.
"We keep our money in Ithaca and buy local produce as much as we can," she said.
On top of GreenStar's support of other local businesses, the company has been making efforts to provide healthy, natural food to those less fortunate with their new program, "Fresh, Local and Organic Within Everyone's Reach." FLOWER, a member-owner discount program, provides a 15 percent discount throughout the store to anyone who receives financial assistance from the government.
GreenStar's charitable endeavors don't stop there. The company's non-profit, GreenStar Community Projects, serves to initiate and promote co-operatives, general health and ecological support. Their upcoming event, the Food Justice Summit, will be held Oct. 22 to mobilize for food sovereignty, and will include a Walk-A-Thon. GreenStar will also be home to this year's Winter Farmer's Market in January.
In a continual effort to make healthy food accessible to every type of customer, GreenStar Oasis has recently expanded their bakery department to include more gluten-free options.
Bakery manager Priscilla Cartland said that includes treats like granola nut bars and chocolate hazelnut tortes.
"We've always had some staple recipes that use oats instead of wheat, but when the request for gluten-free options grew, we decided to start developing more things," she said. "I actually did a wheat-free wedding cake this summer."
With all GreenStar manages to contribute to the community, it's no wonder its members are so passionate about it.
"People [have stopped] me and thanked me for all we do that no one knows about," Romano said. "I'm proud of what my work means."