The men's soccer team is young, but its four defenders are veterans who have shown their prowess so far this season.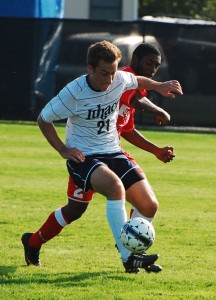 Senior back Matt Anthony and junior back Ryan Norland anchor the defense in the middle. Flanking them on the outside are junior backs Dan and Jack Shirley. The group of four has played a combined 13 seasons of collegiate soccer.
Norland said familiarity with his fellow defenders is part of their success as a unit.
Being as experienced as they are, the veteran defenders also aid their younger teammates in their adjustment from high school to Division III soccer, especially freshman goalie Jordan Gentile.
Gentile said the defenders' experience and level of communication helped him transition to the team as a freshman goalkeeper.
"The back four upperclassmen provide leadership," he said. "They give me support and help me out with decision making and not being hesitant on the ball."
Anthony said, in the team's first three games, when they were outscored by their opponents 10–2, they did not talk enough on the field.
"Better communication from us in the back to the midfield strengthened the defense," he said. "Earlier in the season, we struggled defending the whole field."
The team's defense stifled the SUNY-Cortland Red Dragons and St. John Fisher College Cardinals, who have both averaged more than two goals per game this season. But the South Hill squad's struggles on defense returned Sunday in a 4-0 shutout loss to St. Lawrence University, which is currently ranked first in the NCAA Division III rankings.
Head Coach Andy Byrne said the defense simply could not keep up with the Saints in the way it had with its other opponents.
"There were moments where we didn't get enough pressure on the ball, and that's where they killed us," he said. "It's kind of the same general things: first touch, speed of play, that kind of stuff."
Norland said the team's performance did not reflect the scoreboard in Sunday's game.
"We didn't play terribly, we just made a few minor mistakes that added up," he said. "We didn't play quick enough at times."
Norland said part of his job as a defender is to take responsibility for orchestrating the game and guiding his teammates when they are out of sync.
"As a defense, we're supposed to direct what's in front of us because we can see the field better than they can at times," he said.
Anthony said while the team may rely on its veteran players, everyone has to play well for it to have success.
"Upperclassmen always want to set a good example," he said. "But everybody has to play well, whether you're a senior, junior, sophomore or freshman, to win."