IC Supports Our Heroes, a new club at Ithaca College, has been organized to support active American soldiers and veterans through care packages, letters and group events.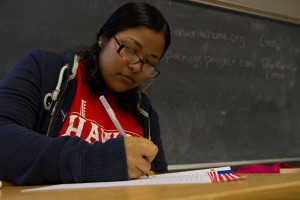 The club sends cards to troops overseas through Operation Write Home, a national organization that sends blank, homemade greeting cards to soldiers so they can write home, as well as cards of appreciation to encourage them.
Sophomore Krista Robb, the club's president, was inspired to organize the group by her family's military service. Her extended family is actively involved in the military, and her mother and stepfather, who served two tours in Iraq, are in the army. Her father, who passed away when she was 3 years old, was a Gulf War veteran. She said she became even more inspired to support those fighting for the country now that her fiancé, who is in the Marines, is being deployed next year.
Robb started writing letters to troops as a high school student through Future Business Leaders of America and said she knew she wanted to continue supporting soldiers through college.
With its 18 current members, Robb said, the club is looking to expand in the coming semester.
"We started the club at an awkward time, so we are looking for more members this year," she said.
Robb said the club is also an outlet for members because almost all of them know someone who is actively serving in the war.
Sophomore Cindy Alvarado, vice president of the club, said she hopes to set an example for other colleges across the nation to inspire them to start clubs like IC Supports Our Heroes.
"It's such an important thing to support the men and women who are fighting for our freedom," she said. "I'm sure that there are other college students that wish that they had enough support to have their own club at their college dedicated to supporting our troops."
Alvarado said she her favorite part is seeing students immerse themselves in the club's activities.
"It's exciting when members start a pen pal relationship with a solider," she said. "The letter correspondence lets students establish proximity right here at Ithaca College even though they are miles away from each other."
Though the club was formed last spring semester, the organization had its first meeting Sept. 29.
At each meeting, members draw patriotic designs on a blank card for a soldier to write in, write letters to their loved ones, or write their own letter to a soldier wishing them safety and support. The board then sends the cards to Operation Write Home for distribution.
Club members will make red, white and blue friendship bracelets next Thursday in Friends 102 to raise funds for care packages. Robb said members also hope to have a 1950s-style United Service Organization dance to raise funds for supplies.
Though it's important to support those in active duty, Robb said, they don't want to overlook the efforts of veterans who also put their lives on the line.
"Veterans have served and have saved our country from peril and should be regarded with as much respect as an active soldier," she said. "They have risked their lives and have come out victoriously."
To support the veterans, Robb said, club members will invite them to sponsored events, visit them at their homes and have them share their experiences with war.
In the future, Robb said, the group wants to send care packages to soldiers through the Care Package Project, a national, non-profit organization that has shipped nearly 28,000 packages to Marines in Afghanistan.
Growing up in a patriotic family, sophomore Courtnie Mele, one of the club's founders, said she wants to credit the soldiers for the work they're doing abroad. She said Americans should remember to thank troops, so their contributions to the country aren't made in vain.
"It's like forgetting to say thank you — like one of those things your mom always tells you to do," Mele said.
Junior Laura Maresciallo, who joined the club this semester, said she got involved because many people in her town, Pompton Lakes, N.J., are in the military. She said residents, including her boyfriend, have fought in places like South Korea, Afghanistan and Iraq.
"I've been writing letters to my boyfriend who is in the army, so through this club I've decided to expand and write to more soldiers," she said.
Robb said it's important that the American public supports soldiers, active and veteran, regardless of personal views.
"These soldiers are actually out for us, regardless of whether or not we agree with the war," she said. "Some of the soldiers might not even agree themselves, so I feel like the least we can do is support them so that they do not feel alone or forgotten."