More than two dozen Ithaca students and residents joined thousands of activists Saturday in Wall Street's Zuccotti Park to voice their objections to economic inequality as part of the Occupy Wall Street protest movement.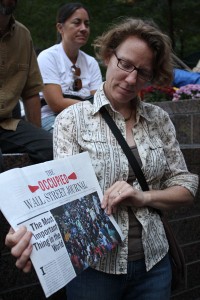 The protest, dubbed Occupy Wall Street, has drawn international attention from media, politicians and citizens since it began Sept. 17. The movement has led to satellite protests and increasing support nationwide, including in Ithaca, where hundreds of local citizens have attended events throughout the last two weeks.
Sophomore Charlotte Butler, who traveled with the carpool of about 10 Ithaca College students and other local residents, said it's the diversity of interest within the Occupy Wall Street movement that sets it apart from typical protests that only cover one or two issues.
"I like the idea that it's a personal thing," she said. "Everyone's protesting for their own little reasons."
During the 12 hours the group stayed in the city, there were two massive organizational meetings — referred to as General Assemblies — and a concert by political punk band Antiflag. Drummers improvised for hours, and sign-holders marched along the sidewalk throughout the day.
Hundreds of NYPD officers lined Zuccotti Park to prevent protestors from blocking pedestrian traffic. Otherwise, the protest was mostly peaceful, and police did not keep attendees from participating.
Danny Schechter, executive editor of mediachannel.org and a Cornell University alumnus, said one of the reasons he attended the event was in protest of what he calls a lack of transparency in the governmental process.
"In 2008, the Treasury Department reported 730,000 counts of expected financial wrongdoing," Schechter said. "The facts are there, but we don't know them. We need to learn them. We need to be informed. The media is not informing us."
Participant David Mocklaw said he was protesting the economic situation many lower-and middle-class Americans are facing as many struggle to cover living expenses each and every week, and a minority even risk losing their homes.
"I come from a lower middle class home, but my friends are a lot worse off than I am," Mocklaw said. "Seeing them get evicted or foreclosed, I'm here to represent them — to represent the 99 percent."
Ryan Karins, a Cornell senior, said he was protesting the exploitation of unionized labor.
"In the auto industry, you now have a two-tiered wage system," Karins said. "Benefits are lower in the two-tier wage structure. It's pretty difficult to raise a family of four on a $14 per hour wage, but it makes sure the family makes enough to not qualify for food stamps. It's a race to the bottom, to where we can get the most lax labor standards."
Kelly Dietz, assistant professor of politics at the college, attended the Saturday protests and said she sees the occupation as a culmination of pent-up frustrations with the government and the economy.
"In some ways the protests are similar to the early tea party actions a couple of years ago," Dietz said. "Both reflect deep frustrations about current circumstances and about not being heard — and a lack of trust in political parties and mainstream media to represent their voices. So it's something we all want to pay attention to."
The protest included Occupy Wall Street opponents, too, who said they do not understand the reason for the movement. Paul Abrahimian, a spectator who stood against the protestors, tried to explain his position to others.
"Are you a chef?" he asked to one female protestor. "Are you a watchmaker? Ultimately the world is very complicated and not so simple. At work, you have eaten someone else's sandwich from the fridge? Ultimately, corruption in this world is a thing you can't erase completely. It's a conditional infraction."
Nevertheless, most of the participants had high hopes for how the event would unfold. Dietz said the protestors actions represent an inherent desire to create space for discourse.
"I see people who are frustrated, who don't think their views are represented by political parties or in the news they watch," Dietz said. "People are frustrated, and when they get frustrated, they tend to open new political spaces for themselves."
Karins said the movement is still in its infancy.
"We're in an awakening stage," Karins said. "It seems like something that's growing and it doesn't seem that it's stopping. It's really about how people choose to arm themselves with information."
For the full story, read this Thursday's edition of The Ithacan.