Several local businesses are joining the "99 percent" of the Occupy Wall Street movement by donating goods to the protesters in New York City.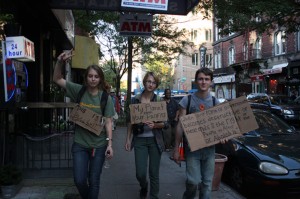 Wide Awake Bakery, Northland Sheep Dairy, The Piggery, GreenStar, Silent City Uprising Coffee and West Haven Farm packed a van last month with food and drinks to help the protesters based in Zuccotti Park. Unable to go to New York themselves, the business owners said they were eager to lend their support.
Ignited by Adbusters, a Canadian activist group, tens of thousands of activists have flocked to Lower Manhattan and other cities across the world as part of the protests to represent the "99 percent" of citizens who decry unfair distribution of wealth, corporate greed and the close ties between corporations and politicians.
Stefan Senders of Wide Awake Bakery, who organized the donations, said he felt that supporting the movement was the right thing to do.
"Our bakery has a reason for being, and part of it is to do what we think is right, and this seemed like the right thing to do," Senders said. "We have our own commitments here. It's not easy for me to get away. I can't just call off and go to a demonstration."
Senders also said the support he saw from other local businesses was quick and helpful.
"When we started calling, the level of support we saw was staggering," he said. "Everyone we talked to was behind it, and their donations were incredibly generous. No one said to me, 'Well, I would, but I can't afford it.' They just said, 'Yeah, let's do it.'"
Heather Sandford, owner of The Piggery, a local butcher shop and deli, sent water and soda because it was her only shelf stable product. Sandford said she wanted to show her appreciation for the work the protesters have been putting in.
"We've been following the movement closely, and we definitely identify ourselves as part of the 99 percent," Sandford said. "We're thankful for the courage, commitment and time that people are putting in to demonstrate the values that are important to us."
Donn Hewes, the owner of Northland Sheep Dairy, donated a three-pound wheel of cheese. Hewes said he donated because he agrees with the protesters' ideas of systemic change.
"We need a broader scale of systemic change, and that's something that you can't really accomplish through voting," Hewes said. "We need to vote, but we need to think outside the box about how we can change the system that we have today."
The businesses have received mixed responses from community members about their donations. Hewes said he has received emails both supporting and reprimanding his donations.
At Ithaca College, the student group Occupy Ithaca College is also showing its support for the national movement.
Ren Ostry, a member of Occupy Ithaca College, said the group, which is independent of the college, is working to get drop boxes on campus to collect supplies, such as heavy coats, sleeping bags and food items, for the protesters. Ostry said donations are a way to localize the movement outside of New York City.
"They duplicate the movement and spread it and plug people in," Ostry said. "Not all of us can get down to Zuccotti Park, so this duplication brings the movement to us."