Though there are three fewer divers on the women's swimming and diving team this season, the seven divers on this year's squad still have their anchor — senior captain Jodi Costello.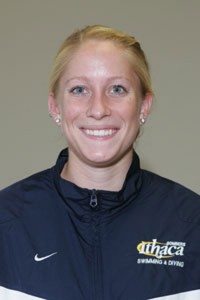 Costello won the 3-meter dive in Tuesday's meet against William Smith College, which helped the Blue and Gold remain undefeated in five meets this season. Her win helped the team increase its dual-meet winning streak to 25. She earned all-state recognition in both the 1- and 3-meter dives and in all three seasons has competed for the Bombers. She set a school record in the 1-meter dive with a final total of 399.65 at the Bomber Diving Invitational on Jan. 30.
Sports Editor Kevin McCall spoke with Costello about the team's fast start to the season and what she hopes to achieve in her second year as a captain.
Kevin McCall: How do you feel after being elected a team captain two years in a row?
Jodi Costello: It's great for the team that it can have both swimmers and divers be captains, but for me personally it's awesome because we're all friends as divers. I have a lot of responsibility to relay information to my friends and teammates, but my leadership position boosts my own confidence while I'm competing.
KM: Do you prefer competing in the 1-meter or 3-meter diving event?
JC: I like the 3-meter event better than the 1-meter, which is unusual. Most people like the 1-meter dive better because it's not as scary for them, but I like the 3-meter dive because I compete better and the increase in height gets me more excited. There's not as much extra time at 3 meters as you would think, but I'm more capable of doing harder dives and there's not as much of a gap between the finishing scores.
KM: What advice are you giving to the underclassmen divers on the team?
JC: A lot of the new divers in the program are also new to the sport. So for them the most important thing is to not be intimidated. They have to just put themselves out there in competition and see what happens. We're trying to show them how much fun we can have as a team while still being competitive at meets. Hopefully they'll enjoy it as much as we do. It is sad that it's my last season, but I try to keep that in mind at every single meet and give the team everything that I can.
KM: Did your background in any other sports help you transition to diving at Ithaca?
JC: I ran track and cross country in addition to being on the dance team at my high school. I did gymnastics from when I was 4 years old until my freshman year of high school, then switched over to diving that summer. Gymnastics helped me transition to diving the most. Both sports are definitely similar, but the technique is a little bit different since in diving we tend to land on our head, as opposed to our feet in gymnastics. When I twist in diving, my hands are placed in a different position and when I'm flipping, my hands are more tucked in than they are in gymnastics.
KM: How can you sustain the momentum the team has built so far?
JC: We're going to start working on a few of our harder dives, or optionals, but we'll also be fine-tuning our voluntary dives that we've been doing. By practicing harder dives, we hope that people will have the confidence to attempt some of them in competitions, rather than just in practice.