Kevin Michael, a multimedia support technician in the Roy H. Park School of Communications at Ithaca College, has passed away.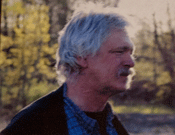 In an email sent out to the Park School community, David Priester, the director of the school's technical operations, said the school's faculty received news of Michael's passing yesterday. Priester said his death was unexpected.
Junior Rob Flaherty, a television-radio major, said he heard about Michael's passing Sunday night through peers. He said Michael was known by almost everyone in the Park School for his eagerness to help and had even been cast in a few student productions.
"He was sort of the go-to guy for any video editing or software issues," Flaherty said. "He always did it with this really good sense of humor about everything, and he always made that horribly stressful situation a whole lot better when he was there. He was just a really vibrant personality that everyone knew when you were downstairs in Park."
Michael worked at the Park School for 25 years, serving most recently as the multimedia service technician.
Priester, who was Michael's boss for eight years, said Michael will be remembered for the stories he recanted in his booming voice, which could be heard even by those on the main floor.
"He has been described by a lot of people as larger than life because he was a big presence, and when he was around, he was hard to miss," Priester said.
Though he was a private man when it came to discussing his personal life, Priester said, Michael, also a musician, was happy to lend his penchant for acting to many student films throughout the years — a passion he was able to blend with his love for interacting with students.
"He was full of surprises," Priester said. "On one hand, he was a very private individual. He didn't talk much about his personal life."
Junior George Ahlmeyer, a student engineer for master control, worked alongside Michael since he began working for the operations center at the end of his freshman year.
"Our conversations would easily go from talking about graphics to talking about the MLB network," he said. "He would have a way of talking about something that was on-topic to talking about something else, and just being able to talk away with him was always a great start to my day."
A gathering will be held at 12:15 p.m. Thursday in the Park Auditorium for students and colleagues who wish to honor Michael or share an anecdote about their experiences with him.
Check back later for more updates.