This piece was authored by Marian Brown, the special assistant to the provost and vice president of academic affairs; Susan Allen-Gil, the chair of the environmental studies and science deparment; and Susan Swensen, the chair of the biology department.
We have repeatedly been asked, "So, how was China?" since returning from our trips to Beijing, Xi'an and Shanghai. There, we attended the International Forum on Education for Sustainable Development to present on Ithaca College's sustainability education model.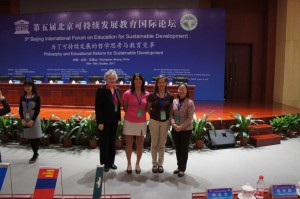 Most Chinese educators we met focus their sustainability education efforts in the primary and early secondary grades. However, these schools look more at preserving cultural heritage, with small nods to recycling, adaptive reuse and some renewable energy technology. Something may have been "lost in translation," but if the Chinese value sustainability, we missed the signs.
China is now the global leader in carbon emissions, releasing 23 percent from its coal-fired power production. But the U.S. runs a close second, emitting 18 percent of the world's carbon dioxide. In Beijing and Xi'an, smog was visible — even on "good air" days, as our tour guide referred to them. The atmosphere in Shanghai was noticeably clearer. Our guide explained the coal-burning plants that sent power to Shanghai were located closer to Beijing.
The highways are in excellent condition, but it takes forever to travel because the roads are clogged with American-sized vehicles. Upwardly mobile Chinese crave the status of owning their own car: Hondas, Volkswagens, Toyotas and Subarus abound. Not only were the Chinese people indistinguishable from Americans in their vehicle brands, but also their wardrobe choices. They also patronize American companies like McDonald's and KFC. Ironically, we even noted small Walmart stores. It's clear the Chinese are mirroring the unsustainable aspects of American development, and capitalism is a genie that cannot be forced back into its bottle.
We visited three of China's largest cities, with populations between eight and 23 million. Most notable was the pace of redevelopment: everywhere, homes and small buildings were being demolished and replaced with high-rise apartment complexes and office buildings. The government owns all the land, so the state can easily pay home or business occupants to relocate, raze the building and replace it with a multi-story version. The observation deck of Shanghai's Oriental Pearl Tower offered a "birds-eye view" of 20 miles of skyscraping towers and high-rises in every direction.
At the forum, the presenters talked about the importance of "education for sustainable development," but there are disconnects between theory and practice. Buildings were over-lit and rooms overheated. China leads in manufacturing solar panels for export, yet few are in use. Instead, giant power plants and miles of transmission lines move electrons from the northern coal-producing regions to the rapidly expanding southern cities. We saw no "green buildings," recycling was rare and there was little effort to conserve water. People did not compost, and they wasted food. We saw no local food production. Rather, items were trucked in or flown from long distances. Yet who are we to say the Chinese shouldn't enjoy the same standard of living we take for granted?
The most valuable part of traveling halfway around the world is the opportunity to return home with fresh eyes and a greater appreciation for how good we have it. This experience made us appreciate being at a college where we strive to "walk the talk" of sustainability. But we should not be complacent. Our American lifestyles are highly unsustainable — and the Chinese simply want to mirror us. We should modify our own thinking and practices and offer the people in modernizing nations a better, more sustainable example to follow.