After posting a 15–1 record in Empire 8 Conference play last season, the women's basketball team will feature a bigger and deeper cast of forwards who should make them even stronger contenders this season.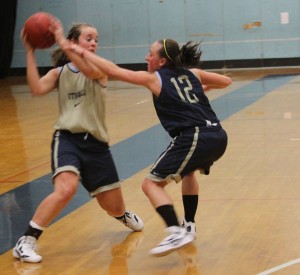 With the addition of freshmen forwards Geena Brady, Francesca Cotrupe and Jessica Reichl, and junior forwards Devin Shea and Elizabeth Conti and sophomore forward Jennifer Escobido returning, the Blue and Gold can create a rotation of at least five players who hover at around 6 feet tall.
Cotrupe said the Bombers' depth in the low post could be overwhelming for their opponents.
"Most teams don't have as many forwards as we do — especially with our size," Cotrupe said. "Their forwards will end up getting more tired, and we'll just be able to sub in, and we'll never stop running and putting pressure on the opponents' low post."
Head Coach Dan Raymond said the freshman forwards have faced a steep learning curve in practices.
"The one thing they're learning is that there are more people of their size that are skilled," Raymond said. "Most of them come from places where they were the biggest players on the floor, and that's just not the case anymore."
The new players have found able and willing mentors in their upperclassmen teammates, though. Cotrupe said players like Shea and Escobido haven't been afraid to both encourage and motivate her.
Brady said she has learned as much from seeing the veterans play as she has from hearing their advice.
"They're very aggressive, and they know their positions very well, so just watching them — and not even asking questions — just watching them play I've learned a lot," Brady said.
The Bombers favor an up-tempo playing style, but they received most of their offensive production in the paint last season. Escobido and Shea were second and third on the team with averages of 8.7 and 8.5 points per game, respectively.
Raymond said the team will still look to its players to score points from underneath the basket. He said the new depth up front could allow the Bombers to play three forwards at once — including Conti and Escobido — and create matchup problems for opponents all over the court.
The starting rotation is far from set, since the Bombers have played just one regular season game so far. Raymond said he envisions Shea — who has fully recovered from a knee injury — to emerge as a dominant inside player, but said it was too early in the season to speculate who will get the most playing time.
Regardless of the five-player combination on the court, Brady said the primary goal for the new class of post players is to deliver wins for the Blue and Gold.
"We're just working hard to get as much playing time as we can and help the team all together," Brady said. "It's about the team progressing and succeeding."