The women's indoor track and field team has a combination of seasoned veterans and eager underclassmen runners that will compete in more distance events than last season both as individuals and members of relay teams.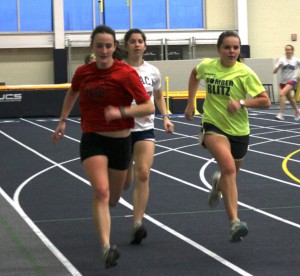 This year's group of Bombers is looking to follow up on its success from competitive championships as well as past performances on the women's cross-country team. They are
motivating each other through arduous workouts to achieve personal and team goals of earning recognition at the state, regional and national levels.
Junior Jenn Randall said the Blue and Gold's distance runners are more versatile than in past seasons.
"We have multiple incoming freshman this year with the potential to make a contribution to both the middle- and long-distance squad," she said.
Randall was one of the team's highest finishers in middle-distance events last season, earning a team-best time of 2:20.43 in the 800-meter run. She completed the 500-meter run in 1:22.68 at the Marc Deneault Invitational at Cornell University.
In addition to Randall's achievements, senior Heidi Baumbach and junior Carly Graham qualified at the state and regional levels in the mile run.
Freshmen Alexa Rick and Anastasia Diamond meanwhile, placed third and fourth, respectively, for the Bombers at the NCAA Atlantic Regional Championships on Nov. 12 at St. Lawrence University to end the cross-country season.
Sophomore middle-distance runner Alexandra Heinkel said she has taken on a leadership role to help the new runners like Rick and Diamond work together to prepare for competitions and build team unity.
"The upperclassmen have taken on the responsibility to help the younger girls work cohesively as a team so that each runner can achieve their personal best, which will ultimately benefit the team as a whole," Heinkel said. "Since the track and field team is so large, at times it is difficult to get to know everyone, especially the new people on the team."
Junior Meghan Shanley competes as a distance runner in both individual and relay events. She said the new runners will help fill the voids created by the runners who graduated last year such as long-distance runner Kate Leugers '11, middle-distance runner Emily Moran '11 and sprinter Marcia McCord '11, who also ran individually and on relay teams. Shanley said the team has emphasized attention to detail in practices.
"We've tried to show everyone on the team that hard work and dedication truly pays off," Shanley said. "As a junior, I feel that I should help the underclassmen if they have any questions and be a positive example."
Heinkel said the upperclassmen's actions have spoken louder than their words during preseason practices. She said the runners do  their own exercises in practice that differ in length and intensity.
"We do faster-speed workouts, which help your start and finish of a race, and the slower, longer workouts that help build up your endurance," Heinkel said.
Both types of workouts help runners train for all types of races, including the short distances of 55 and 60 meters, the middle distances of 1,000 and 3,000 meters,  and the longer distances of 1 and 2 miles.
Shanley said Assistant Coach Andrew Weishaar creates workouts that help develop speed and endurance in all the runners, which gives the newer runners confidence to take more risks in competition.
"We all run and train differently, and he does a great job of creating workouts that benefit us all individually," she said. "When I hit the times in the workout that our coach tell us to hit, I feel that I actually got something out of the workout."
Heinkel said the physical preparation for meets is not enough by itself. It also needs to be paired with mental preparation and developing trust in one's abilities.
"You need to train your upper and lower body in order to run fast, but you need to train your mind as well," she said. "Being confident in yourself is a major component in this sport. If you lack in one of these two components, it will show in your race."