More than 10,000 spectators cheered as music blared and fireworks erupted above Republican Stadium in Yerevan, Armenia, during the opening ceremonies of the fifth annual Pan-Armenian games on Aug. 13. There to take it all in was junior guard Eric Halejian and junior forward Andrei Oztemel.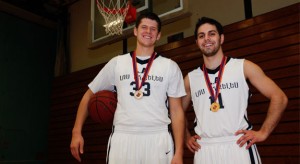 The games, played every three years in the former Soviet republic, featured athletes from Armenia or of Armenian descent. Halejian, whose great-grandparents are Armenian, started at point guard and Oztemel, whose father is Armenian, played forward for the Los Angeles-based team that went on to win the gold medal in men's basketball.
A family friend who had previously played in the games talked to Halejian about playing in Armenia in the 2009 games.
Carl Bardakian, head coach of the team, recruited Halejian to play point guard that year.
Upon enrolling at the college in the fall, Halejian found out Oztemel was Armenian as well and started recruiting him to play for the team.
Oztemel said he was skeptical about playing overseas at first, but eventually came around to the idea after talking with his father.
"Initially I didn't really understand the whole cultural pride behind the whole thing, and because it was at the end of the summer and I wanted to get ready for school, I wasn't sure about going," he said. "I talked it over with my dad, and he thought it would be a great idea because I don't know when else I would have an opportunity to go there."
Oztemel and Halejian flew to Los Angeles in July and only had limited practice with the team before flying over to Armenia for the games. Oztemel was one of only two new players added to the team before this year's games.
Upon arriving, Oztemel said he was curious and eager to explore the country.
"I expected a village with dirt roads and mud huts but, it's completely different," he said. "The capital of Yerevan where we stayed was really built up and affluent. The second we got there I felt an immediate sense of culture."
Halejian had been to the country before, but said he didn't realize the difference in culture until he stepped off the airplane during his first visit.
"When we landed at the airport, there's all these people waiting to pick up family and friends, and it kind of hits you then that everyone looks a little different and speaks a different language," he said.
Though Halejian and Oztemel enjoyed success on the court, it was their time off the court that truly impacted them.
Armenia was the first country in the world to accept Christianity as a religion, in the beginning of the fourth century, and features some of the oldest churches in the world, which Oztemel toured.
Oztemel also visited the Armenian Genocide Memorial while he was in the country. Both players we're born in the United States, and Oztemel's grandfather escaped to Turkey, where he changed his last name to Oztemel during the genocide before World War I, in which the Ottoman Empire massacred more than 1.5 million Armenians.
Oztemel said his visit conjured up a lot of emotions.
"It was a sad, eye-opening experience. Not even the United States recognizes the genocide happened because of their connection to Turkey, so going through there and seeing the pictures and graphic photos evoked a lot of anger and sadness," he said. "I was real ignorant about it before so it was pretty surreal going through there."
The purpose of the trip though was to win a gold medal, and in order to do so the team had to win seven games in eight days. Four teams in the competition featured players who were playing professionally in the Middle East and Europe, providing a unique challenge for the two college players.
Oztemel said he could tell which players were professional, from their appearance to simply the way they played the game.
"Their games were much more fundamentally sound," Oztemel said. "The style of play is much different over there, and the size was another issue we had to deal with."
In the final game against two-time defending champion Sochi, Oztemel was forced to guard several players who stood three or four inches taller. Bardakian said he could see Oztemel's growth as a player with his performance in the final, which Los Angeles wound up winning 93-86 in overtime.
"When Andrei grabbed 13 rebounds a few games ago, I said to myself his rebounding definitely improved having to go up against bigger and stronger players in Armenia," he said. "Also, with FIBA having the longer three-point line in International competition, without a doubt it's going to help prepare him to be a better shooter this year at Ithaca."
Bardakian said Halejian became a fan favorite because of his quick and flashy moves.
"When he would get the ball, people would look for him to do something creative off the dribble," Bardakain said.
Halejian and Oztemel also got to meet Armenian President Serzh Sargsyan, who handed them their gold medals following their championship victory. Oztemel said he took pride in representing his heritage by playing in front of such a large crowd.
"That was such an amazing feeling," he said. "Being a team from Los Angeles, they treat you like you're celebrities, and we had a nice little following of fans out there."
Halejian and Oztemel said they gained plenty of knowledge that they planned to bring back to the Bombers this winter.
"Leadership and toughness are the two big ones," Halejian said. "We were down big in the final and were pretty discouraged. We knew we had to come together as a team and grind out a win."
Oztemel said he wants his South Hill squad teammates to feed off of his experience of winning at the international level.
"Just bringing together a team in a short period of time speaks in and of itself," he said. "We were able to get it done through adversity and I keep joking about it, but we were able to bring back a little championship savvy. We haven't had a championship here, but that's what we're working for."