Color blocking yet again, ladies and gentlemen. For my post today, we will be examining a "Who wore it better" in color blocking; that is, me versus the Marc Jacobs purses from my last post. After drooling over looking at the purses, I realized that I could easily pull together a color blocking outfit in the same warm pink and orange tones as the Marc Jacobs satchel…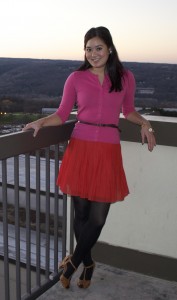 As you can see, I've followed the rules I laid down in my previous post about color blocking: the brights belong to the same color family, I've kept the silhouette simple and clean, and the rest of my outfit is neutral; the black tights tone down the double-whammy brightness of the hot pink and orange-red skirt, and the cognac t-strap heels are a classic shoe that grounds the outfit, without making it look too precious.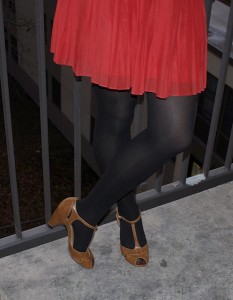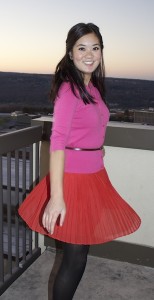 So, see?!? Color blocking is easy AND fun – apparently, I thought so too at the time that these pictures were taken, because I started dancing on my balcony and my very talented photographer/roomie decided to document the crazy fun that color blocking can induce.
But back to the very important question that I posed at the beginning of this post – what do you think? Who wore the color blocking better? The Marc Jacobs satchel or me?