Streaky shooting plagued the men's basketball team through the first two weeks of the season, but the familiar sounds of swishing nets returned to Ben Light Gymnasium when veteran shooters began to hit three-point shots.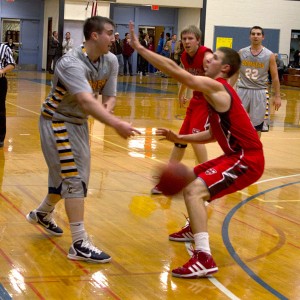 Last season, the Blue and Gold won 14 of their 19 games. In these 19 games, either one of the team's leading shooters — senior guard Jordan Marcus or junior forward Andrei Oztemel — shot more than 40 percent from the behind the three-point line. Marcus shot 44 percent on three-pointers last season, but has started this season shooting just 35 percent from behind the arc.
The Blue and Gold have shot more than 32 percent from the three-point range in five losses this season. In its two wins, including an 89-80 victory against St. Lawrence University on Friday in Ben Light Gymnasium, the team has shot 45 percent from long range.
The Bombers converted on 15 of 28 three point attempts in their most recent win, with Oztemel making eight of 11 three-point shots.
Oztemel said if the Bombers do not have an easy shot in the paint, shooting a three is the go-to play.
"We're not really a mid-range team," he said. "It's either a three ball or we're going in for a layup, taking it into the basket."
Oztemel set the program record for shooting percentage in a single game Friday night, making 73 percent of his baskets from the three-point range.
Wightman said the team struggled early in the season with getting open three-pointers on offensive possessions because it had moved away from its bread and butter — the fast break.
"We weren't pushing the ball hard enough, we weren't running fast enough and moving enough on offense to get them open looks," he said.
Junior point guard Sean Rossi said getting back into running the fast break offense helps the team shoot more accurately from downtown because the defense is more concerned about stopping the easy bucket in transition. He said the Bombers have attempted to run a balanced and deliberate offense.
"We went back to the fast break of last year, and it really opened up Andrei and Jordan on the wings," he said.
The Bombers send one man down the court as another player on the opposite end brings up the ball to center court to get an over-the-top look against the defense, Rossi said.
Rossi, who is first on the team in assists with 40, is currently shooting 25 percent from the three-point range. He said he is going to start getting into the team's three-point shooting frenzy to draw attention away from Marcus and Oztemel.
"Coaches have been telling me — and it's true — I have to score or put up some shots just to keep the defense honest," Rossi said. "If I knock down a couple threes in a game, teams are going to have to come out to guard me."