The women's basketball team (14–3 overall, 6–0 Empire 8) used its active hands to make today's game miserable for Alfred University (7–9 overall, 0–6 Empire 8) and defeat the visiting Saxons by a score of 68-38.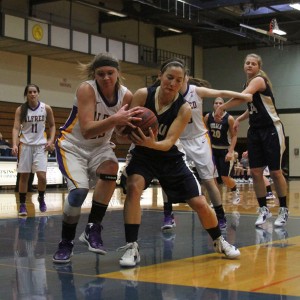 The Bombers forced 25 Alfred turnovers and created 27 points off those turnovers. The South Hill squad's stifling defense also created a huge run at the end of the first half that broke the game wide open. The team led by just four points with seven minutes to play in the opening frame, but then ripped off an 18-0 run to close the half and go up 36-16 at the break. The Blue and Gold forced six turnovers by the Saxons in that seven-minute stretch.
Freshman guard Ally Mnich said the Bombers lockdown defense was a product of the team being more vocal on the court.
"We just started talking and communicating more," Mnich said. "We really felt a fire light under us — we've been kind of lackadaisical lately and we knew we had to pick it up."
Today's win against Alfred marked Ithaca's 35th straight against Alfred. It was also the sixth time this season the South Hill squad has held an opponent to fewer than 50 points.
Sophomore guard Mary Kate Tierney said the Bombers had identified a few key players for Alfred that they wanted to try to shut down.
"We thought [freshman guard] Harley Cleary was one of their better players so we put our best defender, Jess Farley, on her," Tierney said. "We tried to keep her out of the paint. We also put Devin Shea on [sophomore forward Grace] Williamson inside. Between those two playing good defense, and then with our help defense, I think that really helped us today."
The Bombers improved to 6–0 in conference play this season and remain atop the Empire 8 Conference standings.
The Blue and Gold have been able to build double-digit leads in the first halves of each of their six conference matchups this season. Sophomore guard Kathryn Campbell said the early leads have forced opponents to adjust their strategies on the fly.
"We've definitely been able to make teams change their game plans so far and get out of that comfort zone," Campbell said.
The Bombers will continue their homestand with a matchup against Utica College. Tipoff is at 6 p.m. Friday in Ben Light Gymnasium.