The women's indoor track team kicked off its 2012 season competing at the Cornell Upstate Challenge on Saturday. The Bombers had 16 top-10 individual performances on the day, highlighted by three Eastern Collegiate Athletic Conference qualifiers and one school record.
Senior Jessica Hoeffner placed third in the weight throw, breaking her own school record with an ECAC-qualifying throw of 15.55 meters. Four Bombers followed, as senior Anna Lawrence placed sixth with a throw of 13.58 meters, sophomore Elaine Abdulky finished in seventh with a 12.68 meters, senior Kate Middleton came in eighth place with a mark of 12.40 meters and junior Colleen Garman finished in ninth with a throw of 11.69 meters.
Middleton also competed in the shot put, finishing fifth after a heave of 11.79 meters.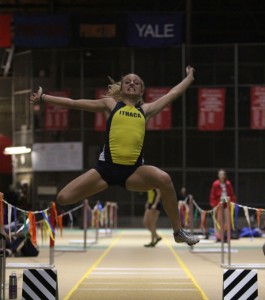 On the track, freshman Harmony Graves ran the 400-meter dash in a time of 1:01:83, while three Bombers placed in the 500-meter run. Freshman Mary Claire Hartford finished seventh in the event with a time of 1:28:32, junior Katie Edwards followed in eighth (1:33.96) and junior Hillary Cox ended up in ninth place (1:35.28).
Senior Julie Orlando finished ninth in the pole vault, clearing three meters, and classmate Hannah Evans placed ninth in the triple jump with a mark of 10.06 meters.
The South Hill squad will host the Empire 8 Conference Indoor Championships on Saturday in Glazer Arena.