The gymnastics team tallied a season-high point total of 184.2 to place first in a dual-meet yesterday in Ben Light Gymnasium. The Bombers defeated both Springfield College (181.400) and Rhode Island College (168.925) to improve to 3–2 on the season.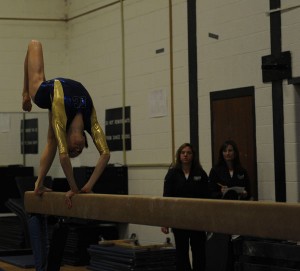 Senior Jessica Bolduc rose to the occasion again, placing first among the five competitors in the all-around competition with a score of 37.725. She also took first in three of her four events, including the vault (9.625), floor exercise (9.65) and the balance beam (9.6).
Bolduc said the team intended to prove themselves Saturday because they were on their own apparatus.
"Our goal was to be clean, consistent, and committed to our skills because we wanted to win," Bolduc said. "And we did just that."
Graduate assistant coach Emily Graber said she was proud of the teamwork and unity she saw from the girls during the meet. Graber said she could not choose any standout gymnast because everyone contributed and stuck their routines.
"We had some of our biggest scorers miss, and then other kids came up and pulled up and brought back the team," she said. "We covered each other really well."
The Bombers performed well in all categories, contributing their best scores out of all three meets on the vault, bars and floor exercise.
Senior Kay Gordon was the fourth-highest scorer in the vault with a score of 9.325, and freshman Valerie Cohen followed close behind in fifth place at 9.25.
Junior Chelsea Robie took second on the uneven bars with a 9.325, the best score of any of the South Hill squad's gymnasts. Other notable finishes on the uneven bars included senior Samantha Whiffen in fourth place with a score of 9.2 and sophomore Shilanna Gallo finishing in fifth with a mark of 9.175.
Sophomore Meredith Daniels took fourth place in the floor exercise with a season-high score of 9.325. Graduate student Justine Picciano took fifth in the event by producing a 9.3 in her routine that included a new set of skills.
Picciano said the team hit their routines as planned, but there is room to grow in the upcoming meets.
"Even though we did really well today, we want to go out next week and be even more consistent," she said.
The next meet for the Blue and Gold will be at 1 p.m. Saturday at Wilson College in Chambersburg, Pa.