In the wake of a string of national student deaths and suicides that gained attention last year, Ithaca College's Mental Health Response Team is bolstering its efforts to take on campus-wide mental health issues.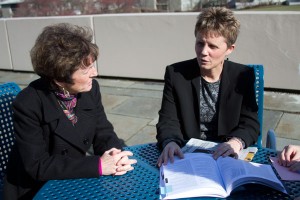 The MHRT aims to boost the group by adding new members every year. This year, nine new staff and faculty members became part of the team after a two-day training in January.
The MHRT was established five years ago by Dr. Suki Montgomery Hall, assistant director in the Office of Counseling and Wellness. Montgomery Hall said the Center for Counseling and Psychological Services came up with the idea six years ago because after Sept. 11, many colleges initiated crisis response teams to help students cope with campus-wide or national disasters.
In the past five years, the team has been active almost every year, not to deal with campus disasters, but to deal with student deaths.
Freshman Victoria Cheng's death after an off-campus party  and most recently Gregory Mantone's death in a fatal car accident last year had strong impact on the student body, Montgomery Hall said. After both of these deaths the college-wide emergency team contacted CAPS to deploy the MHRT.
After Cheng's death, the group offered counseling services and safe places for students to grieve.
"We offered to the campus community places such as the Chapel or the lounge of the residence hall where Victoria lived," she said.
The team guides students to help them find other resources at the counseling center that students would find helpful during a difficult time.
"They're not counselors," Montgomery Hall said. "This is a team that reminds people of the resources they already have."
MHRT volunteer Benjamin Costello said he feels that it's important to have the MHRT on campus because he understands what it's like to have mixed emotions after a traumatic event.
"In the times when it has been called into action for student deaths, it has been a really positive action," he said.
Montgomery Hall said prior to the establishment of the MHRT, CAPS only had six full-time therapists trained to deal with a campus crisis.
"Six of us would not be enough to provide the kind of mental health support we want for the community, so we thought it would be helpful to train a team of staff and faculty in crises response skills," she said.
The MHRT is a team of more than 40 faculty and staff members trained to help students deal with a campus-wide crisis.
When the team is assembled, the volunteers are available to meet with students in designated locations to speak with them and listen how they are dealing with the
situation emotionally.
Katie Marks, associate professor of the writing department, said she joined MHRT because she wants to provide assistance to students outside the classroom as well.
"I recognize that my students are more than just who they are in the classroom — they're people," Marks said. "To me it's important if there is any way I can help students if they're suffering with their transition to college."
Volunteers can join the team by filling out an application listing any previous experience with crisis response and how they handle themselves in emergency situations.
The members are taught by an expert who comes in and explains how people deal with crisis situations by use of role-play exercises provided by theater students from the college.
Eight theater students met with the new volunteers during training to simulate situations with people who might be in the midst of an emotional crisis.
"With the students, we come up with scenarios such as a residence hall fire or a car accident where several students get killed, or we come up with scenarios that we might need to activate the team," Montgomery Hall said.
Marks said she feels it's important for the MHRT to have a presence on campus so that the college community knows who they can turn to if a traumatic situation arises.
"Just knowing it's there is kind of a relief for people," she said. "If anything did happen, there's other people who can respond who can help the
campus community."